This sport tourer is intended to be nimble as well as powerful in a straight line.
I think I've officially reached that point in my life where I'm becoming an old man trapped in the body of a mid-twenties urban dweller. I still appreciate the sheer performance, responsiveness, and style of sport and superbikes, but the idea of a large touring bike for long-term ownership is beginning to look more and more appealing. This season, after having spent a few weeks with a Honda Gold Wing, I realized just how practical these behemoths can be for the daily grind, without the physical strain induced by a Ducati 899 Panigale. My test week with the 2015 BMW R1200RT began with a long ride home from BMW headquarters on a very chilly August night.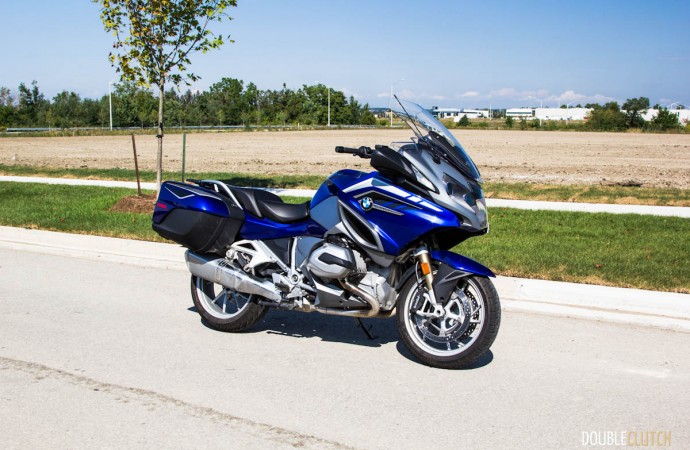 It was on this August night when I was able to experience for the first time the sensation of a heated motorcycle seat, heated grips and a fully-functional and adjustable windshield, all at once. On a night where temperatures were dipping into the 8-9 degree range (Celsius), this was all advantageous. But it's not the features that attract me to the R1200RT; it's the overall package that this giant from the Bavarians boasts. Powered by a boxer twin rather than the inline-six of its bigger brother, the K1600GT, this sport tourer is intended to be nimble as well as powerful in a straight line.
Nimble is a relative term when you're referring to a 600lb bike – there's only so much response it can have. But, like BMW's automotive applications, the overall dynamics are so sharp and precise that the R1200RT almost shrinks as you go faster. The 1170cc liquid-cooled four-stroke twin engine is familiar from the R1200R, a bike that's easily a favourite among our team. Power delivery is smooth and the ride-by-wire throttle is absolute perfection for any class of bike. Inputs are telepathic and the bike responds like nothing its size should be able to.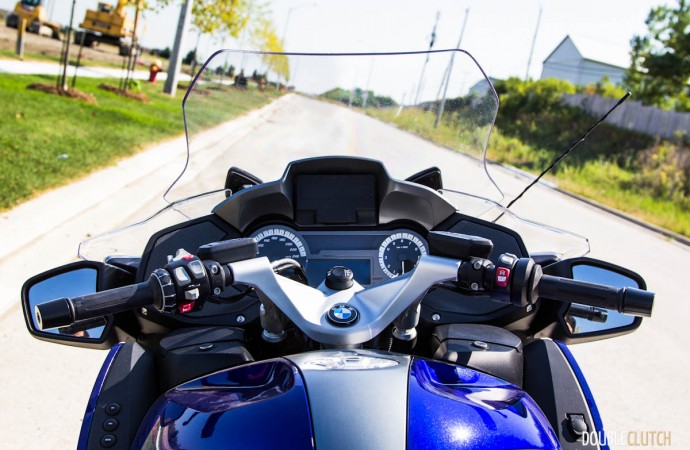 Thanks to the weight of the R1200RT being 131lbs less than the K1600GT, the RT is able to scoot to 100km/h nearly as quickly as the six-cylinder bike. It's only 0.3 seconds slower in the quarter mile too, and it surprised me on numerous occasions with how fast it is. The six-speed transmission is easy to use and the clutch has predictable travel. BMW has ensured that despite not being a novice bike, the R1200 is easy to ride and has minimal complication in the majority of environments.
Complication only comes in when you begin to play with the electronic features aboard the BMW R1200RT. The tech is pretty similar to the K1600GT, but the intention here has been to make things easier to use. There's a rotating "switch" on the left grip that's used to cycle through menus and execute commands. Everything from the stereo with radio (satellite!) and iPod connectivity, suspension control, and heated seat/grip are controlled via this rotator. This system is actually decent enough to use, but the learning curve is quite difficult and even someone as tech-savvy as myself will have some trouble getting used to it. Of course, after it's been mastered, it's a breeze.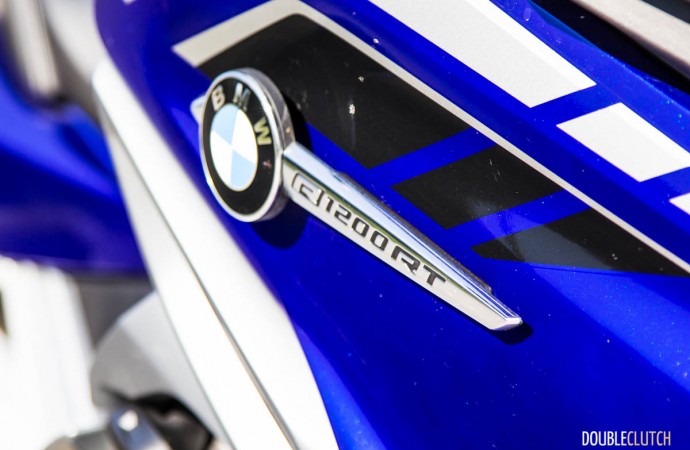 The intelligent key system used here is actually pretty reminiscent of BMW's automotive applications. There's a remote that you keep in your pocket, that can also be used to lock/unlock the side bags and activate or deactivate the alarm. The R1200RT is started via a button where the ignition would typically be located. Locking the fork is done by pushing and holding this button for a few seconds. This setup also took a bit of getting used to at first, but within a couple days, I began to wonder why more bikes don't implement a similar system.
Ergonomics aboard the 2015 R1200RT are spot-on for a sport tourer. The seat is pretty comfortable and you sit "in" the bike rather than sitting on it. The grips are the perfect distance for me and I was able to sit perfectly upright. Foot position is properly done as well, but I found it a bit difficult to find the side stand at first. The rear seat is also heated, but rear passengers might have a bit of trouble getting over the hard side bags. It's important to mention that I didn't actually carry any passengers during my test, so the last part there is purely speculation.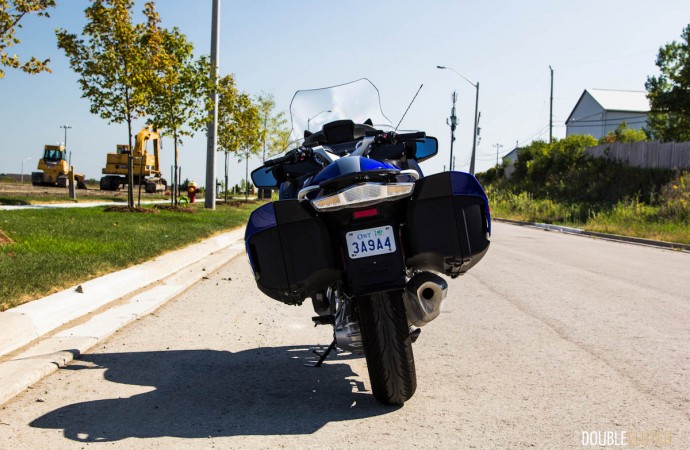 The included saddlebags here allow for excellent cargo capacity, which is essential in a sport tourer. This is a bike with an electronically-adjustable windshield, for god's sakes. It needs to be versatile enough to carry enough gear for a rider or two to get away for a few days. I was able to fit the contents of a large backpack into one side bag, and the other one was able to swallow a thin motorcycle jacket as well as my full-face helmet, all at once. Pretty surprising, and the bags are also quickly detachable should you decide to remove them when not actually touring.
One area in which the 2015 R1200RT did much better than I thought it would is fuel economy. Though not having done any serious touring, I put this bike through my daily grind for a two week period, during which I did a ton of highway riding as well as some commuting within the downtown core. On 91-octane premium fuel, the R1200RT was indicating 4.8L/100km, and the 24L tank means the bike can be taken significant distances before having to refuel. A fun fact here is that the intelligent key system allows the fuel tank to be opened using a latch, rather than having to physically insert a key – pretty cool.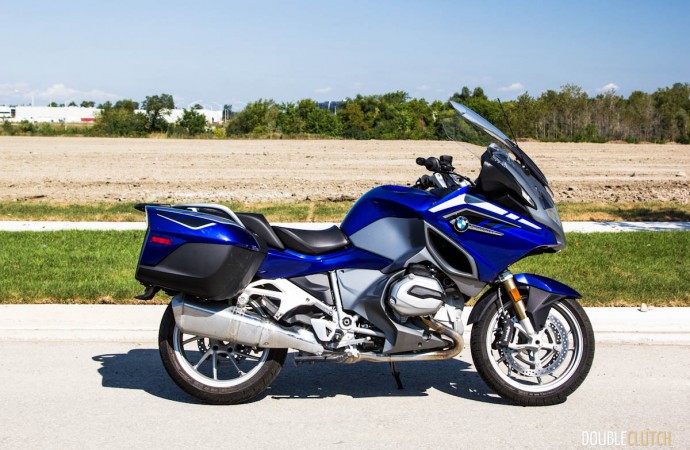 The 2015 BMW R1200RT is a remarkably good motorcycle to live with. It has the sportiness of a much smaller bike but the stability and heft that's required of a proper touring machine. It's almost like a BMW X5 M without two wheels, without being overly excessive in its power delivery. This is a motorcycle that the experienced Canadian rider can own for many years without feeling the need to upgrade to a K1600GT. The R1200RT doesn't invade on the K1600's territory as much as make for the perfect substitute for those who require a little bit more efficiency and a slightly smaller size.
2015 BMW R1200RT Gallery
See Also: