Well, this is certainly new! |
BMW, along with Mercedes-Benz, remains to this day one of the most well-reputed automakers in the world. The roundel logo is easily amongst the most identifiable images anywhere, and the sight of it is associated with the ultimate driving machine. Being such a client-driven manufacturer, the Bavarians have recently taken to producing a vehicle for literally every niche market one can think of. This was first evident to us when we were given cars to test such as the BMW 335i GranTurismo and the new BMW X4. Recently, I borrowed the keys to the 2015 BMW 428i Gran Coupe xDrive, the latest niche-filler available in the Canadian market.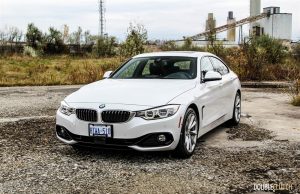 Last year, the 3-series sedan and coupe were differentiated for a very specific reason. BMW wanted sedans to be given odd-numbered series designations, and coupes even numbers. Hence, the 3-series coupe became the 4-series, a car I grew to really love. What we have here though, is the four-door version of the 4-series coupe. Confused? You're not the only one. The 4-series Gran Coupe is a four-door sportback with frameless windows and a low-slung roofline, giving it the distinct appearance of a large coupe. Essentially, this tester here is a slightly prettier 328i sedan with a rear hatch.
Apart from being confused about its existence in the first place, I couldn't come up with anything negative about the 428i Gran Coupe. My parents currently have a 2014 328i xDrive, which is essentially the same as my tester here. I had the 428i the same week that I had to get the winter wheels swapped over onto my parents' car, so I got some great back-to-back seat time. From behind the wheel, I actually couldn't feel any difference at all between the two. I personally love the swooped styling of the 428i, and I definitely appreciate the added trunk space and slightly airier cabin. The lines are stunning – it's reminiscent of the Europe-only Audi A5/S5 Sportback.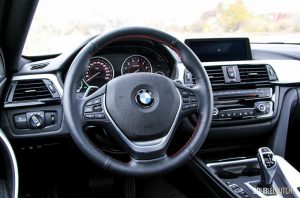 One advantage BMW has with their niche markets is that development costs are at a minimum. Powertrains and chassis' are shared between siblings, so this car has the same 2.0L turbocharged 4-cylinder as the other 3-series siblings as well as the X1, 228i and 528i. Older 328i models were given an inline 6-cylinder, which is the enthusiast choice, but this 4-cylinder has really grown on me. It's good for 241 horsepower at 5,000rpm and 258 lb-ft of torque between 1450 and 4800rpm. The choice transmission on my test car was the ZF 8-speed automatic, easily my favourite conventional automatic available today. It's an insanely good unit and feels quite a bit like a dual-clutch box. Despite the 4-series being a "sportier" alternative to the 3-series, no manual transmission is available. This car also arrived equipped with all-wheel-drive, adding that extra sweetener for the brutal Canadian winter.
The 2.0L turbo 4-cylinder from BMW is codenamed N20, and is a sweet unit. Because of direct injection though, there is a little bit of clatter from the engine at idle. Both during my test week with this car and over my immediate family's ownership of two vehicles with this motor, I've received comments about whether or not it's a diesel engine. The 258 lb-ft of torque is immediate, and there's little to no turbo lag. The N20 still sounds distinctly like a 4-cylinder, but it's a seriously fast one. I actually prefer this motor to the 355-horsepower fire-breather in the Mercedes-Benz CLA45; it may not be as powerful but it's far more tossable and versatile.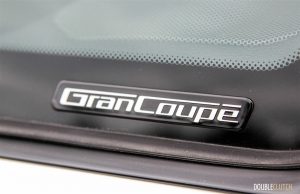 Being a BMW, the steering is still very, very good. The latest generation of 3-series (codenamed F30) and all of its descendants have switched to electric power steering, doing away with the heavy, weighted wheel of the E90. I personally preferred the old setup because it was more enthusiast-friendly, but I understand this move. With the new setup, the cars are far easier to drive and more enjoyable for the mainstream premium consumer who may not necessarily care about a pure driving experience. In the past, these buyers were forced to gravitate towards competitors such as the Mercedes-Benz C-Class or the Audi A4.
Most new BMWs are equipped with selectable drive modes. Sport and Sport+ wake up the chassis, throttle, and transmission shift points for maximum performance and driving pleasure. "Eco Pro" fiddles with all of the above settings and ensures optimal fuel economy. I didn't find myself using the normal "Comfort" setting much at all. When commuting with the 4 Gran Coupe, I decided to try and save a few pennies and stick with "Eco Pro", leaving "Sport+" to weekend pleasure driving. Using only premium fuel, I averaged 8.3L/100km in combined driving over my test week, which is virtually identical to the lifetime of the 328i.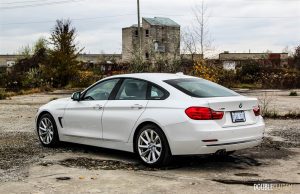 Loaded to the gills, my test car came in at a touch over $59,000. For this, it had virtually every option box checked off. A highlight I was pleased to see was Active LED headlights. Previously, the LED "Angel Eyes" were a gorgeous sight, with the full low-beam lights remaining projector xenons. The LED headlights are a $1,950 option and worth every penny in my eyes. The full BMW iDrive and ConnectedDrive suite was on board here; my 428i also had adaptive cruise control, lane departure warning, forward collision warning, and the usual DSC stability systems. I like the iDrive infotainment system very much; I'd put it right up there with Audi's MMI as the best and most user-friendly unit out there. Everything is just perfect and ergonomically correct.
The 2015 BMW 428i GranCoupe may not really have a point to its existence, but that's not to say it's anything short of a wonderful car. It's an excellent premium four-door with very few quirks to it. The doors themselves are pretty small, making entry and exit a pinch for taller folks, and the sexy roofline does impede on rear seat headroom. However, I loved being given so many options in terms of sound equalizer tweaks. The Harman/Kardon setup in this car is godly – I thoroughly enjoyed every minute of listening to my tunes via USB connectivity. For the young professional or even the empty-nester parents, the 4 Gran Coupe is a great choice if you want to stand out from the plethora of 3-series' on the roads of Toronto.
2015 BMW 428i Gran Coupe Gallery