A beastly little hornet | There's no car out there that suits my lifestyle and driving style better than the 2015 Audi S3.
To diehard purists like myself, cars can often become like family members. To this day, I still miss a few of the cars I've owned, as over the years of ownership you begin to develop a bond with the car. However, to a lesser extent, I occasionally find myself being so enamored with a test car that the same symptoms begin to come out. A few years ago, I drove my first Audi S4, and to this day I maintain that it's been one of the most satisfying cars I've ever driven. This year though, Audi has come out with a new car that's smaller, faster, and slightly more advanced than the S4. They handed me a 2015 Audi S3 in top-trim Technik form, and I spent a week with it to see what I thought.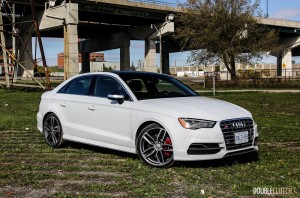 This is one of those cars that was just love at first sight for me. The A4/S4 in its current generation has now been around for over half a decade, so the styling, while still elegant, has begun to age. The S3 represents the same corporate face, lines, and overall class that Audi has implemented throughout their lineup from the entry-level A3 right up to the R8 super-coupé. Here though, it's fresher, looks more muscular, and appears incredibly clean from every angle. Touches like full LED headlights, the stylish optional 19" wheels, and the surprisingly airy interior are all unmistakably Audi yet appear to be garden-fresh.
Last spring, we drove the Mercedes-Benz CLA45, which sort of paved the path for this new class of cars. They're hot little sedans (or coupés) with some of the most powerful production turbocharged 4-cylinder engines around. The BMW M235i has a turbocharged six-pot, but is technically still a competitor even though it lacks two doors. The CLA45 is pretty good, but I found the transmission pretty agitating. A 2.0L turbocharged 4-cylinder engine powers this Audi S3. It's the same butter-smooth TFSI motor that's shared with a few other members of the VWAG family, but here it's a completely different animal. It packs 292 horsepower and 280 lb-ft of torque, and the only available transmission in North America is the 6-speed dual-clutch S-tronic.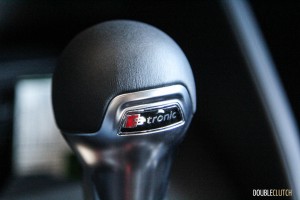 I would like to see a manual for the sake of driving enjoyment, but to be completely honest, this car has more than enough of that. The transmission blips on downshifts and the sport exhaust returns a hilarious "BWAAT" on upshifts. Throttle response is absolutely impeccable, and there's a little boost gauge beneath the tachometer that gives the driver a good idea of what the turbocharger is doing at any given moment. Thanks to quattro all-wheel-drive (front-biased in this case), the S3 handles like a dream. Steering is direct and responsive, but lacks feedback. The car is very, very lively, but I would like to see a little bit more passion as in its bigger brother, the S4. Speaking of the S4 – even with its supercharged six under the hood, the new S3 can out-accelerate it.
Because the S3 packs a 6-speed rather than the 7-speed version of S-tronic, the car idles rather high at highway speeds. This in turn has a bit of an impact on fuel economy, but it's not a huge deal. I was able to get the car down to 7.9L/100km on a strictly highway run to Cambridge, ON and back. My week's cycle consisted of 60/40 highway/city driving with a rather spirited foot. Hey, the car sounds fantastic and is very satisfying to drive. I still managed to average about 9L/100km on premium fuel.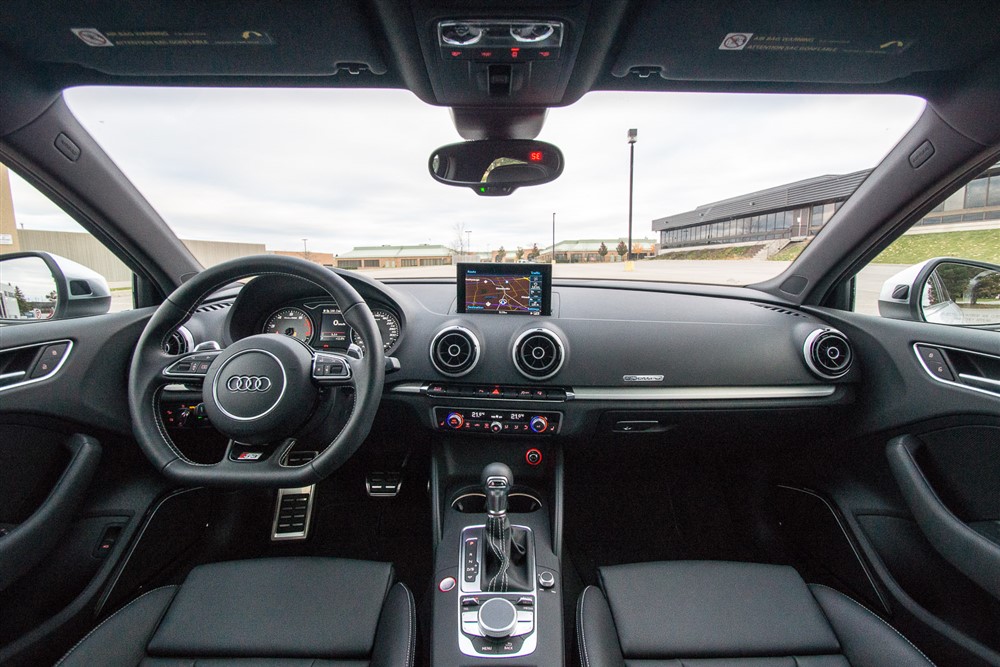 Last year, I drove a couple of A7s and a couple of RS7s. While the equipment lists on those cars were packed, I found the MMI infotainment system a bit low resolution and dated, even though it was great in concept. The S3 has taken the existing system and perfected it. The screen resolution is much higher, so text and images (album art, etc.) are much sharper. Also, for the first time to my knowledge, there's a dedicated page to displaying track information with album art. The system itself runs much faster, and there are a few more options for everything. I like the touchpad integrated onto the controller knob, and it works well too – I entered multiple addresses over my test week and it was quick and easy.
On the S3, the Bang & Olufsen sound system packs 14 fully active speakers and puts out a total 705 watts. I've long since admitted to being a sucker for this system, but it's a little bit different here than in larger Audi models. It takes a little bit of tweaking with all of the settings including GALA Plus and 5.1 surround sound, but this system is able to perfectly reproduce vocals as well as instrumentals. The previous tester of this particular S3 had saved a few 1990s classics to the hard drive, so I made use of this to tune the stereo to my liking. I would like to see a little bit more bass, but the built in subwoofer does a decent job of reproducing bass notes.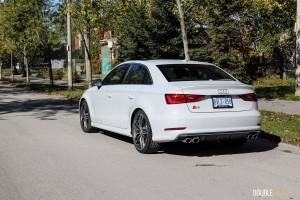 The interior overall of the S3 is virtually identical to the A3, a car that essentially set a new standard for this class. The Mercedes-Benz CLA may be more polarizing to look at from the outside, but there appears to be a ton of cost cutting on the inside. The Audi's dashboard layout is simplistic and elegant without being a huge departure from the brand's standard. The dual-zone climate control has a very clear display and instantly recognizable buttons to adjust settings to your liking. I couldn't, however, find a setting to synchronize temperatures between the two zones.
My car came with some optional equipment ticked off. I could probably do without the painted calipers and driving assistants, but I will admit that the Lane Keep Assist is pretty cool. If the car senses you veering out of your lane inadvertently, it actually steers the car back on course. It's not as jerky as in other applications and works pretty seamlessly. This S3 also had the adjustable damping, which modifies suspension settings to ensure that the ride is bang-on as to the driver's preference. This is all done through Audi Drive Select, and I personally chose to keep the car in "Dynamic" mode most of the time. The "Comfort" setting is particularly enjoyable for long highway drives, and it's seriously surprising how quiet the S3 is when just cruising along. It really doesn't give you nearly as much perception of speed as most other small cars.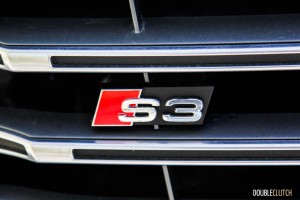 I'm fortunate enough to have an amazing job that doesn't really require me to have a daily driver. This allows me to focus my car budget on impractical toys that are sparingly used on nice days. However, if I did need a year-round daily driver, there's no car out there that suits my lifestyle and driving style better than the 2015 Audi S3. It's easily my favourite car out of the 100+ cars I've driven in the past year alone, and I would put my money down on it in a heartbeat. I actually had a discussion with a friend who works for a reputed local Audi dealership, and he informed me that they can't actually keep S3s on the lot – they're selling like hotcakes. I can see why; with a price tag of well under $50,000 for a well-equipped example, this car is the performance bargain of the century.
2015 Audi S3 Technik Gallery