The last of its kind | My favourite part of this car is driving when the top is down.
Here's the situation: You want a convertible, but not one that says you just picked up a rental, and something with an interior that feels a little more sophisticated and more practical than some of the Japanese iterations of the convertible (read: Mazda MX-5). Based on the A5 PQ35 Platform, the Volkswagen Eos' platform is shared with the sixth generation Volkswagen Jetta, the fifth-generation Volkswagen Golf, and the Audi Q3. It is Volkswagen's first production coupe since the Volkswagen Corrado which ceased production in 1995. The car is named after Eos, the Greek Goddess of the dawn. After the facelift in 2012, could this new model shed a new light on the retractable hardtop coupe market? After picking up the keys to a 2014 Volkswagen Eos Highline painted in a shade of Indium Grey Metallic, I was eager to find out just what this Eos was all about.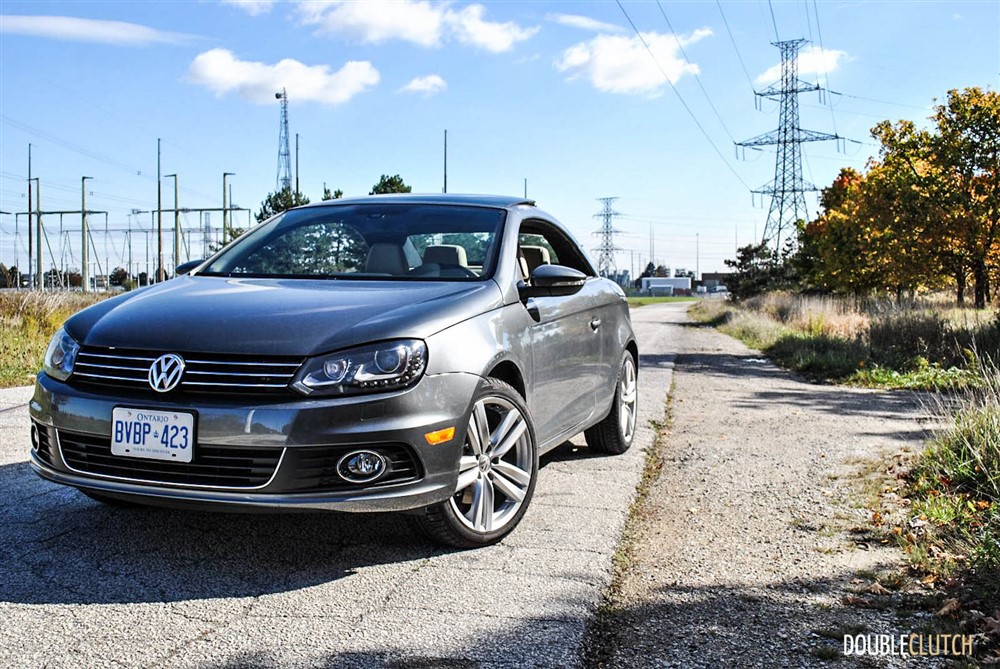 At first glance, the 2014 Eos does look like it should actually be called a Jetta Convertible. However, its handsome and subtle lines keep it straightforward and charming, both inside and out. The Cornsilk Beige Vienna leather that lined my Eos felt extremely supple and the seats provided exceptional support. It also has 3-stage heated seats that range from slightly warm to stovetop hot. Although the interior materials felt top notch, the multimedia interface did not feel as up to par. I felt as though there was very noticeable lag and although the 600-watt 10 speaker Dynaudio audio system was sublime, the RNS 510 system's lag detracted from the overall experience.
Every Eos that leaves the production line comes equipped with a 200 horsepower, 2.0-liter turbocharged four-cylinder powerplant with 207 lb-ft of torque. In my tester, this engine is paired with Volkswagen's extremely smooth six speed dual-clutch gearbox (DSG). Although by Top Gear's standards this would be considered a flappy-paddle gearbox, it is a very good flappy-paddle gearbox. Quick and smooth gear changes kept the Eos delivering power smoothly and effortlessly to the ground. The 2.0 TSI engine is beautifully tuned and works very well in this car; it's the perfect motor for a cabriolet of this size.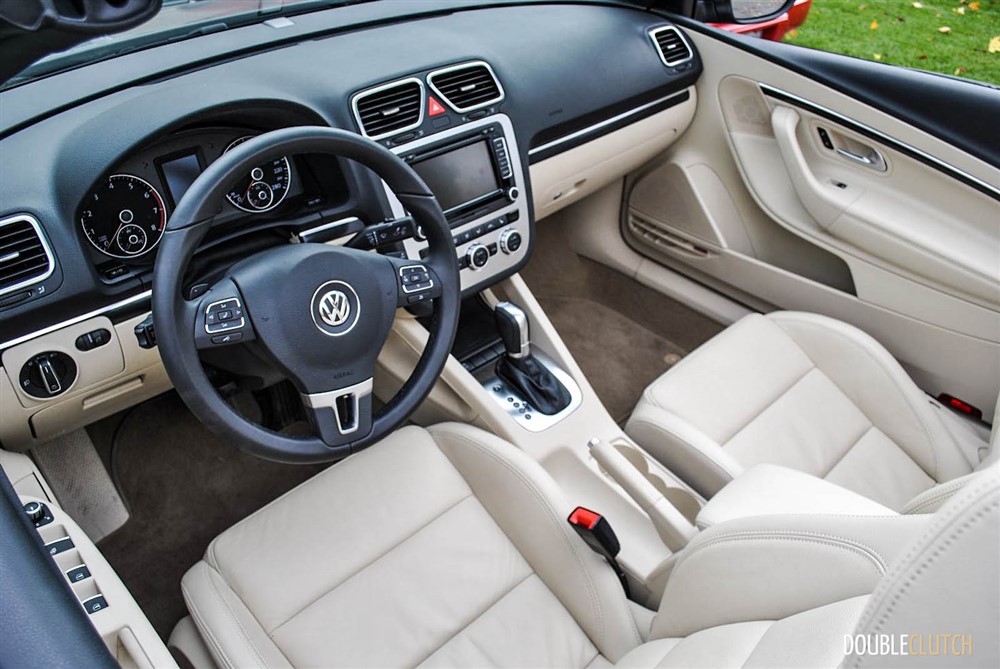 Although 2015 marks the final production year for the Eos, my only wish for the next generation (if it ever shows up) is an all-wheel drive system. Even for a front-wheel-drive car with a turbocharger, torque steer is not really an issue in the Eos, but for the price tag of one of these, I am still left wanting a bit more. Handling wise, the 235-series wide tires kept the Eos firmly planted during higher-speed cornering. Added side note: I am really happy Volkswagen did not equip a flat-bottom steering wheel for this car. It would feel really out of place and I think the whole 'F1-inspired' flat-bottom wheel really does get overplayed, I find it is more of a nuisance if anything else, especially for city driving. The handling overall is light for such a heavy car that weighs almost 3,500 pounds. With the top down I did notice some looseness though when going over some bumps — however it's a given that convertibles are always going to be at a disadvantage when it comes to rigidity.
My favourite part of this car is driving when the top is down. Taking less than 25 seconds, the Eos transitions from a coupe to a convertible by folding into two pieces, swinging the trunk outwards and then storing the roof sections neatly into the trunk. Although this does take away from the 300 litre storage space, there is still 190 litres of cargo space available with the top down, which is still enough for handbags and smaller items. Just do not expect to fit a set of golf clubs in the trunk while the top is down. A neat trick the Eos also packs is the built-in power sunroof in the hardtop. If it's too cool out to put the top completely down, this feature can be utilized.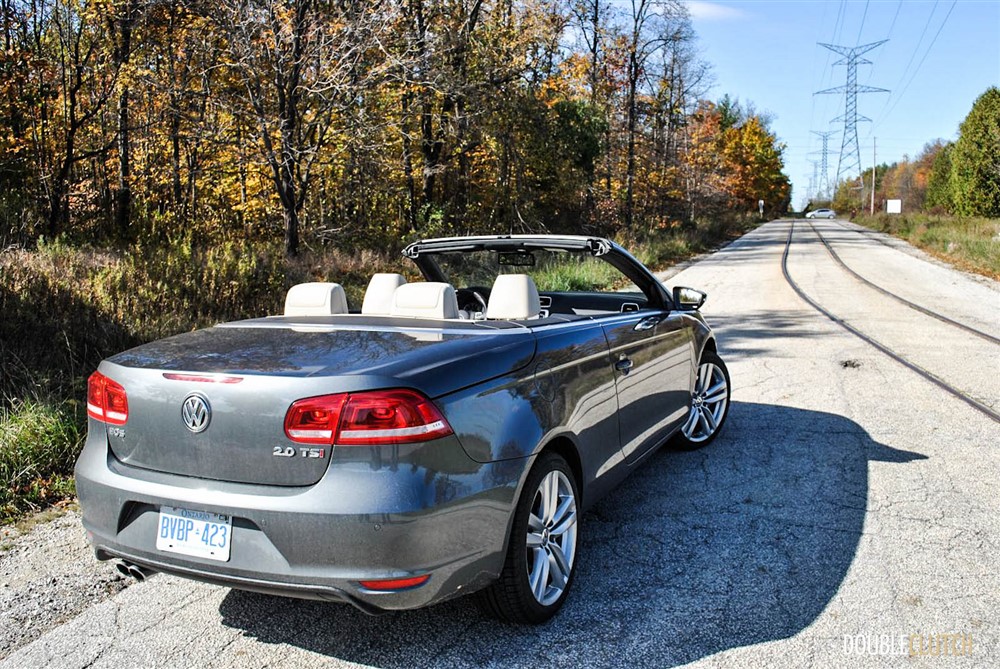 Although a chilly October in Toronto is not ideal for a convertible, equipped with a toque, gloves, and placing the heated seats as well as the heater on full blast was enough to keep me warm, even at speeds of 100 km/hr. The Eos technically has a 2+2 configuration but I found the space in the back seats to be very restricted and would only be ideal for small children, purses, or guests that you really don't like.
Over my time with the Eos I observed an average fuel economy of 8.8 L/100km in a combined 51% highway driving and 49% city driving. This is very decent for such a heavy car. As tested, my 2014 Eos Highline (fully-loaded) at just over $50,000. This is still better than the Q60 convertible from Infiniti that starts at $58,400. For these prices I would personally rather have a 2015 Lexus IS350 F-Sport or a fully loaded 2015 Subaru WRX STi. Of course, neither of these are competitors to the Eos; just personal soft spots of mine. For a convertible that gets looks everywhere it goes, and still manages to put a smile on my face, I'd say the Volkswagen Eos is worth a test drive.
2014 Volkswagen Eos Highline Gallery