The motorcycle equivalent of Bumblebee | The M109R is definitely one of the most timeless designs available for sale in Canada.
Introduction:
After the release of the first "Transformers" movie, the yellow/black Chevrolet Camaro nicknamed "Bumblebee" instantly became a sensation. People were modifying other cars to have the Bumblebee paint scheme, and the combination of these two colours began to break necks everywhere. I grabbed a 2014 Suzuki M109R B.O.S.S. for a week, bearing a custom "M109R" license plate and the iconic Bumblebee paint colours (known here as Marble Daytona Yellow/Glass Sparkle black), and set out to determine whether or not this big, bad cruiser was the two-wheeled equivalent of that 400-horsepower Camaro.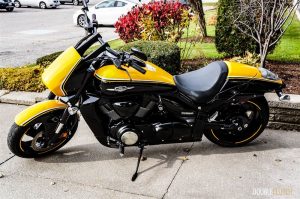 Engine/Transmission: 
Beneath the rider on the M109R lies its 1783cc (109 cubic inch) 8-valve DOHC V-twin. It's not a four-cylinder like on the new Honda Valkyrie, but it's a beast in its own way. Suzuki Cycles Canada doesn't release official power/torque numbers, but it's estimated at 127 horsepower and 118 lb-ft of torque. It's not as brutally quick as a liter sport bike, but the M109R hauls pretty well on the straights. The engine is held in a high-tensile-steel frame, and maximizes both rigidity, comfort, and smoothness.
There's 5.1 inches of travel from the 46mm front fork, and out back is the cast aluminum swingarm that has 4.7 inches of travel. The suspension on this big Boulevard is incredibly smooth and absorbs bumps like no tomorrow. The 4.4 inch pistons on this V-twin are amongst the largest in any production motorcycle in the world. Shifting is done via a five-speed constant mesh unit with a very manageable clutch. It's a lot less heavy than I would have expected from a bike of this size and caliber; rev-matching downshifts and quick maneuvers are very easy.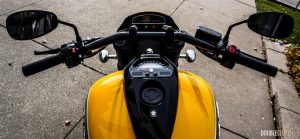 Design: 
I think what stands out the most about the M109R B.O.S.S. is the design. It's not just the yellow/black paint scheme, because Suzuki does offer a couple other very cool colour options as well. This Boulevard looks like it means business. The design is all classic cruiser, with a huge 240/40R18M rear tire, the widest ever used on a Suzuki motorcycle. The taillight is a big LED that stands out and makes for one of the best looking rear ends on any cruiser currently for sale.
Up front, the headlight is classic halogen and the front end overall has a design that pays homage to cruisers of the past. Despite this, the B.O.S.S. still looks fresh and modern. I found myself getting looks and having people point and stare everywhere I took it, whether it was the heart of the city or a couple hours into the countryside. The M109R is definitely one of the most timeless designs available for sale in Canada despite having received no significant changes in 8 years. B.O.S.S. stands for "Blacked Out Special Suzuki", so the bike does get blacked out handlebars, levers, mufflers, brake calipers, and a few other parts.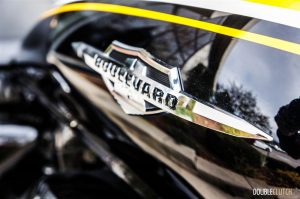 Ergonomics:
Being a cruiser, the Suzuki M109R B.O.S.S. has a very typical foot-forward design. The low seat height of 27.8″ means even shorter riders can be comfortable here. I did find it a bit difficult to reach the kickstand; it's a bit awkwardly placed. The riding position is pretty comfortable, and I found myself easily able to endure hours at a time on the saddle. The seat is big and comfortable, but lacks the contours other long-distance cruisers have. It's definitely appropriately wide for the bike's size though
The pegs are a bit further forward than I'm used to, but after a couple hours I became comfortable. Despite the seat height being tolerable for shorter riders, it's important to do a size test before buying specifically because of the pedal placement. Tall grips on 8.5″ risers mean the bars take a bit of getting used to as well, but push-steering is pretty effortless for a cruiser. In typical Suzuki cruiser fashion, the speedometer is located on top of the gas tank, forcing a distracting glance to check your speed. The tachometer placement is awesome though.
Overall:
At $16,499, the 2014 Suzuki M109R B.O.S.S. isn't cheap. However, this is a classic cruiser that, despite being a bit due for an overhaul, still remains one of the best sold on the Canadian bike market. It's a great motorcycle for the loyal Suzuki Boulevard rider, and for those who haven't yet owned one, an awesome plunge into a family. Suzuki Cycles isn't just a manufacturer; it's a community – a community any serious rider should be proud to be a part of.
2014 Suzuki M109R B.O.S.S. Gallery