Life's little memories | This was a bittersweet week for me; I had just come out of the new Mini Cooper S, which surprised me with its agility and overall capabilities.
I've kept it no secret here that I used to own a first-generation Mini Cooper that I absolutely adored. During the transition from moving into the city from the suburbs, it was the perfect companion. Over the past couple years, the friendly folks over at BMW have put a series of Minis on their test fleet, but they have all been equipped with the turbocharged 4-cylinder engine and the "S" badge. For 2014, the regular Mini hatchback is all-new, so I was handed a 2014 Mini Cooper with the new motor to play with for a week.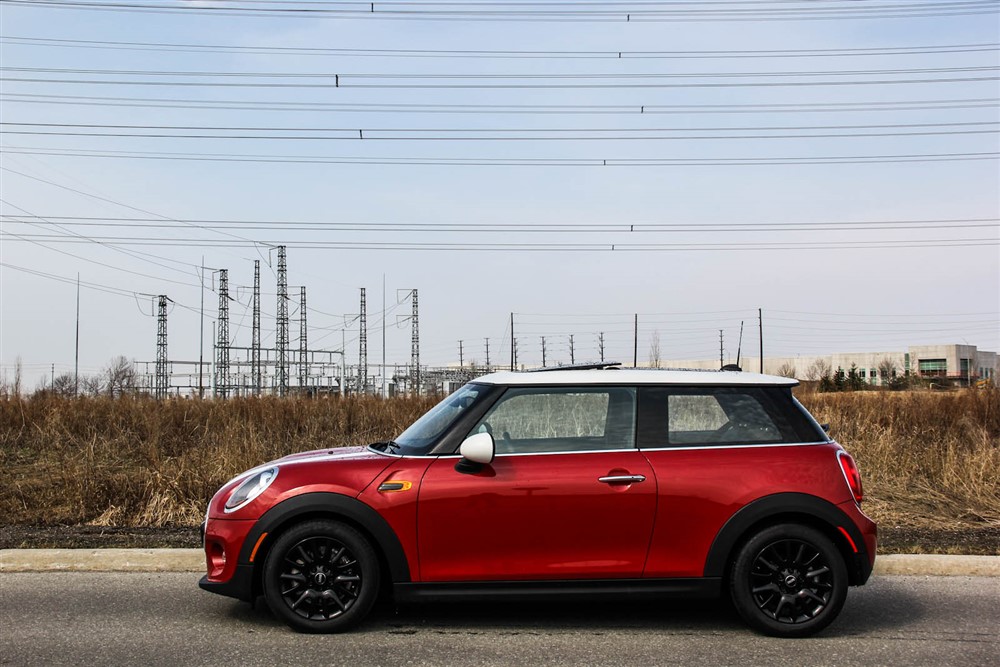 This was a bittersweet week for me; I had just come out of the new Mini Cooper S, which surprised me with its agility and overall capabilities. The regular Mini, while seriously good on its own, is about 55-horsepower down from the Cooper S, so there's a significantly noticeable difference there. However, my week with this hatch was simply filled with memories of my dearly departed Cooper and our days together. Yes, I'm a little bit sentimental over this car.
While the Cooper S is powered by a turbocharged 4-cylinder, regular Cooper hatches are equipped with a new inline 3-cylinder, also turbocharged. This setup maximizes fuel efficiency while providing more horsepower and torque than the old 1.6L 4-cylinder from the previous-generation model. The new engine is 1.5L and puts out 134 horsepower and 162 (!) lb-ft of torque. The torque is thanks to the turbocharger, and is up 48 lb-ft over the last car. The Cooper isn't fast at all, but the one weakness to the old car (which carried the same engine from 2002 to 2013) was that it was pretty anemic at the top end. This one fixes all that – there's never a deficit of power or torque whether you're booting around the city or cruising on the highway.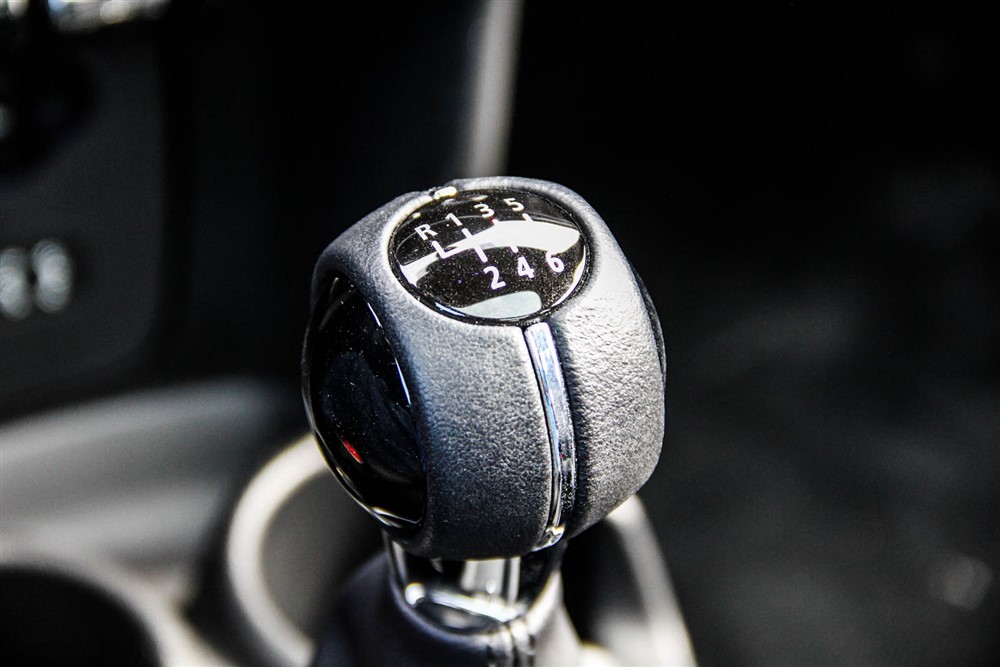 I was pretty thankful when I arrived to pick up my tester and observed that it was equipped with the 6-speed manual rather than the automatic. This transmission is standard and is particularly good. It allows the driver to both extract the most fun out of this excellent chassis while simultaneously maintaining good fuel economy. My first-generation Cooper was equipped with the 5-speed manual, and was notorious for revving stupidly high north of 100 km/h, so the addition of this sixth gear here is especially good. I do wish that there was a lockout for reverse gear (perhaps doing a Volkswagen-like system where you need to push down to engage reverse), as I found it far too easy to engage reverse when shifting back to first.
The most interesting part of this 3-cylinder motor is the sound. It's almost 5-cylinder like, such as the Audi TT-RS I tested this past winter. It has a bit of a snarl and grumble at the same time – it definitely sounds much more aggressive than it is – I like it. Plus, how often nowadays do we see engines that sound mean but are actually silly levels of efficient? I actually took the new Mini on a bit of a road trip to northern Ontario and averaged 5.0L/100km on the highway using "Green" mode. Combine this with a little bit of city driving and the number was still in the 5.8L/100km range. Not too shabby for this little hatchback.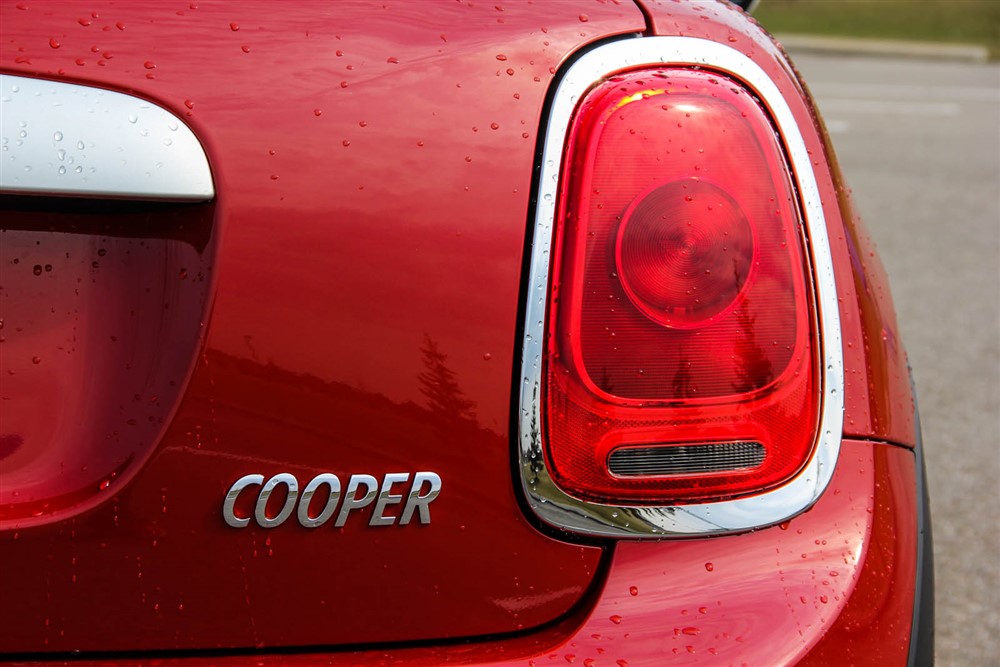 Over the past decade, Minis have taken a bit of criticism for their German levels of pricing. I think that's a little bit unreasonable – the base Cooper hatchback starts at just over $20,000. My tester was equipped with the "Loaded Package" which includes sport seats, Comfort Access, automatic climate control, the on-board computer, and automatic headlights. I would definitely opt for this, as well as the $500 Dynamic Damper Control; it helps significantly with the ride as well as handling. I would, however, skip the additional appearance options such as hood stripes, metallic paint, and some other stuff. It's not hard to keep the price for this Mini below $23,000; my tester came out to $24,900 essentially loaded.
As I discussed in my overview of the new Cooper S, the new Mini may be a little bit larger than its predecessor, but its overall weight has been reduced significantly. Due to this, it feels much lighter on its feet and therefore even more nimble than it used to be. Handling has always been a forté of this car and the new one is uncompromised in that regard. The new styling is seriously growing on me too – until you get to the rear end, it's hard to isolate this car from the outgoing model. I like the instrument cluster, but I do wish they stuck with a regular gas gauge with a needle rather than the motorcycle-like bar setup. It seems like a cheap-ish afterthought on a car that has an otherwise premium feel to it. One particularly interesting feature is the engine start/stop button that is essentially a toggle switch. It has a red LED ring around it that actually pulsates as if it's a beating heart.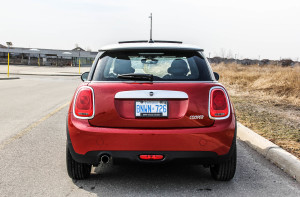 Okay, so let's face the facts: $25,000 (as-tested here) will buy you a base Ford Fiesta ST, a car I love in every regard. The problem is, while the Fiesta ST is an excellent weekend or track companion, its overly-aggressive Recaro seats and ride make it a bit tedious to operate daily. Even though it's a front-running competitor to the Mini Cooper S, if it were my $25K on the line, I'd go for something more akin to this regular Mini. It doesn't have the added oomph of the S or the ST, but it's willing to provide that nimble handling and everyday comfort that most customers want. Plus, to this day, the Mini retains its unique image as one of the most recognizable cars on the road.
2014 Mini Cooper Gallery
1 comment