Big, bad, and tons of confidence | The Valkyrie has a very comfortable ride and it's easy to see why Gold Wing riders are so loyal to their bikes.
I am not a big, burly motorcyclist that's at home on an equally big, burly bike. At 6'1/175, I'm more at home on sport bikes. That being said, last winter I was invited to a dinner and preview night to look at Honda's latest and greatest motorcycles. I had the chance to see the new CBR650 and VFR800, but I was instantly smitten with this 2014 Honda Gold Wing Valkyrie. With its intimidating looks and menacing engine, I just had to try it out for myself.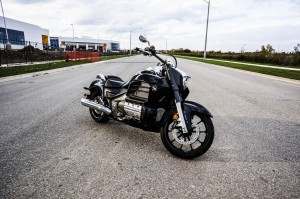 I do have some colleagues who have been riding for decades and are seasoned riders. Just the sight of the big Valkyrie brought out shudders from both colleagues and passersby. The Valkyrie has returned to the Canadian market after a 10-year hiatus, and Honda says that its new look is all about bringing in new and younger riders rather than focusing on the significantly older Gold Wing-buying demographic. That being said, Honda also had to be very careful in the modernizing of this bike to maintain the affection of existing Valkyrie fans and owners looking to trade up to a newer model.
Powering the Gold Wing Valkyrie is a 1832cc flat six-cylinder engine. That's right, it's a six. This season alone, I've had the opportunity to ride over fifty different bikes, and I have yet to experience one with a motor as versatile as this one. Even though it weighs about 750 pounds wet, the Valkyrie accelerates with authority and confidence. Not only does it feel authoritative, it has a serious amount of punch. The engine sounds incredible too; it sounds loosely like the Subaru 3.6L flat-six, but with more refinement. The twin exhaust pipes (one on each side of the rear wheel) put out an amazing noise and minimal drone. This motorcycle means business.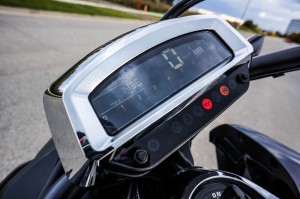 For a bike bearing the Gold Wing family name, the Valkyrie is surprisingly sporty and maneuverable in the corners. Shifting is done through a conventional 5-speed transmission, and the clutch is relatively easy to modulate. I never found myself hunting for a sixth gear, even while cruising on the highway. The front suspension is a telescopic fork with 45mm tubes, and it has just under five inches of travel. Out back is a single Pro-Link shock with just over 4 inches of travel and remote preload adjustment.
The Valkyrie has a very comfortable ride and it's easy to see why Gold Wing riders are so loyal to their bikes. I may be a sport bike aficionado but during my week with the Valkyrie, I kept looking for any excuse I could find to go out for a ride. There's something to be said about open-air riding without much wind protection and without having to hunker my whole upper body over the gas tank. The riding position is the perfect balance of standard touring and cruiser. I'm a fan of the placement of the pegs and how upright they make the rider sit. It's actually quite ergonomically correct and encourages good posture. I don't really like Harley-Davidson's foot-forward riding position that carries throughout their lineup.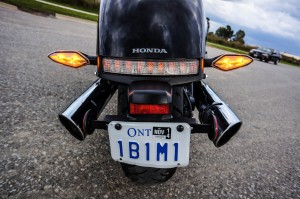 It's pretty efficient too for such a big bike; I averaged about 6L/100km while highway cruising with the Valkyrie. It's not exactly a gas guzzler when in the city, but that's not where it excels. The way it is, I wouldn't hesitate to cruise cross-country on the Valkyrie, but it wouldn't hurt to have a bit more wind protection. There's no shield of any kind, so long-distance comfort really depends on the type of gear worn by the rider. The Valkyrie's sibling, the F6B bagger, has a bit more protection and more room to put things for touring.
At $17,999, the 2014 Honda Gold Wing Valkyrie isn't your typical Gold Wing. For younger riders like myself, the GW name is the Buick of motorcycles; targeted towards the mature crowd. Much sportier cars from Buick, the Valkyrie is a stripped-down version of the iconic Gold Wing that has evil looks, a snarly exhaust, and the same awesome riding position that makes the full-on Gold Wing so appealing.
2014 Honda Gold Wing Valkyrie Gallery