A compelling three-row crossover | Dodge is a brand well known for their ability to make a very good, economical family hauler.
Dodge is a brand well known for their ability to make a very good, economical family hauler, and the success of the Dodge Caravan speaks to that in volumes. However, recently I've had the chance to drive the Chrysler group's most luxurious family friendly SUVs; namely the Jeep Grand Cherokee and the Dodge Durango Citadel. Both of these blew me away in terms of their comfort and interior appointments. Dodge also happens to make Canada's bestselling crossover vehicle, the Dodge Journey, so I was curious to see whether the Journey had stayed true to the no-frills formula of the Caravan. Additionally, I knew that the ladies and gentlemen at Dodge had managed to squeeze some of the luxury and glamour from their SUVs into the crossover platform.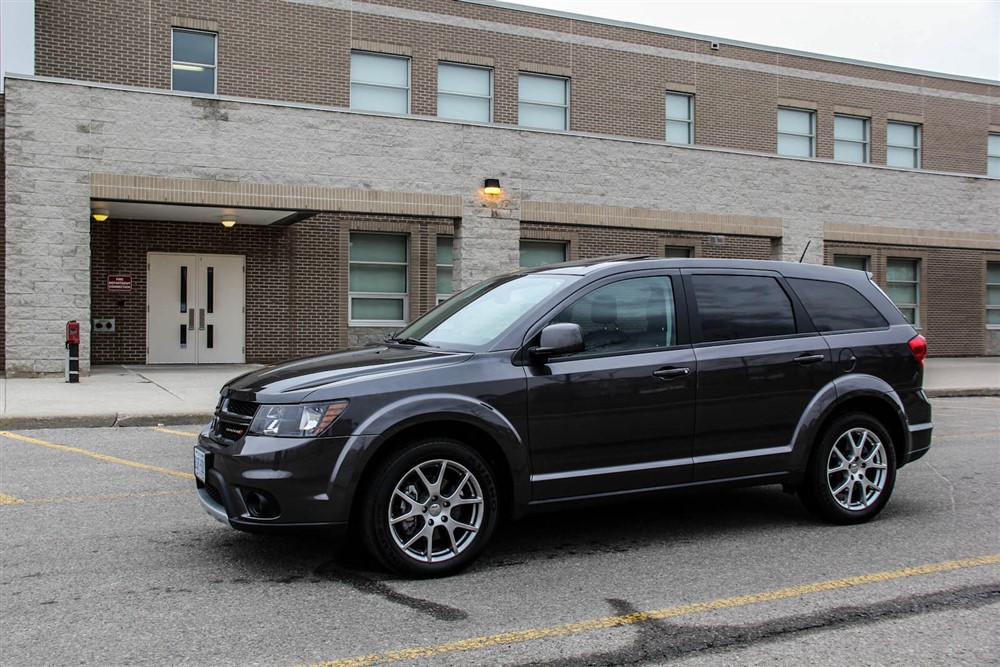 Picking up my grey 2014 Dodge Journey R/T Ralllye AWD, I observed the prominent R/T badging on the rear hatch. That along with its black accented headlamps and nice 19" alloys distinguish it from the hordes of other crossovers, and suggest that there might be a little more to this one. Truth be told though, underneath the badging, the R/T Rallye is mechanically identical to any other V6 AWD Journey. Powered by the 283-horsepower 3.6L Pentastar V6, my tester has proven itself quite adept at effortlessly passing minivans and has pretty decent throttle response. The 6-speed automatic, however, is due for an update –  it can be sluggish and has a tendency to get confused under short bursts of acceleration. I'd really like to see Dodge stick the 8-speed automatic used in the Grand Cherokee into the Journey. This should help smooth out the driving experience and save some gas along the way. The Journey is also available with a 173-horsepower 2.4L 4-cylinder, but with the Pentastar V6 being so smooth, refined and well known for its reliability, would be the only choice for me. Also in favor of the V6 is the fact that Dodge's published fuel economy numbers only show a marginal increase in fuel consumption with the V6. Over my test, I averaged approximately 11.9L/100kms, very respectable for a 7-passenger AWD crossover.
Aside from the V6, which I truly do like, the rest of the driving experience behind the wheel of the Dodge Journey is not offensive, and most buyers in this market would likely be more than happy with the Journey's solid steering feel and elevated ground clearance. However, those who spend a little more time behind the wheel may note that the ride can be harsh at times and the Journey's cabin does experience a fair bit of wind and road noise while rolling along on the highway. I also found the brake pedal to feel a little mushy and lacks the level of feedback I would prefer.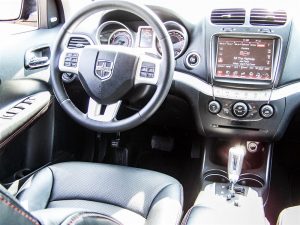 So while the R/T trim level may suggest that this Journey is about the driving experience, it actually is all about one purpose – hauling people in comfort. When it comes to moving messy kids, the family pet, or your in-laws, the Journey is perfectly suited for the job. The rear doors open at almost a 90-degree angle, making it easy to load car-seats for your kids. The split rear seats are fully adjustable so your passengers can easily get comfortable. The optional third row in my tester was tight for adults, but perfect for smaller children, and access was great. The second row seat folds up and flipping forward at the pull of a lever. My tester also came with a $1200 optional DVD entertainment system including wireless headphones and a 9" rear screen – perfect to keep all rear passengers occupied.
Passengers up front haven't been forgotten and the cockpit in this Journey is fully trimmed in soft black leather with eye catching red stitching, a personal favorite of mine.  Of course, my top line model came equipped with Dodge's Uconnect system, which as I've noted a few times now, I am a huge fan of. Through Uconnect you can access the Journey's navigation system, Bluetooth connectivity, fully automatic dual-zone climate control, Alpine 6-speaker stereo and a very high-resolution rear view camera. My only gripe with the system is that its touchscreen is used to control simple functions such as the heated seats, for which I'd really prefer a simple button.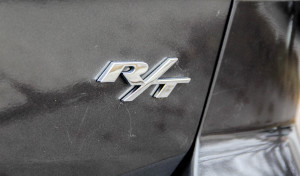 Despite all of these features though, the interior in the Journey has clearly been built for function over form and is much more reminiscent of the utilitarian Dodge Caravan than it is the glamorous Dodge Durango Citadel we tested a few weeks ago. The overall fit and finish does leave a fair bit to be desired, but if there is a silver lining, it's that most surfaces are a very kid-friendly plastic, which is easily wiped clean. Ehile it's clear that the designers have put a lot of thought into making the interior useful, simply improving the materials used would go a long way into giving the Journey a more upscale feel.
As equipped, my fully loaded tester came out to a touch under $38,500, which is about a grand more than a loaded Grand Caravan, and a couple grand less than a base model Grand Cherokee. If you can get past the idea of a minivan, then the Caravan offers a few extra features, the convenience of sliding doors and some savings over the Journey. On the other hand, for marginally more, you can step up the Grand Cherokee and indulge in the additional refinement and capabilities of the SUV, but with a base model Grand Cherokee you would be giving up a significant amount of features, and a third-row.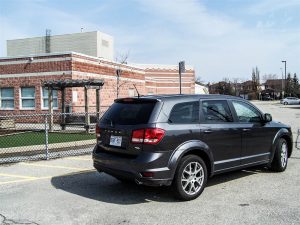 Perhaps its basic formula is why the Journey has proven so successful: the Chrysler group has their pricing just right to steer buyers fearful of having their souls removed by minivan ownership, up to the Journey. Even more likely is the fact that the Journey is just very good at what it needs to do; it gets Canadian families from place to place with little fuss, in the comfort and safety of a tall AWD crossover and with all the latest features to keep everyone satisfied, all for a relatively modest price.
2014 Dodge Journey R/T AWD Gallery