Redesigning Enterprise's finest It's sharper-looking, supposedly more comfortable, a lot more efficient, and much better equipped.
In 2002, the then-new Altima defined a new face for Nissan. It was a vast improvement over the previous generation and also had grown a full class in size, essentially making the 2002-2003 Maxima redundant in the lineup. The 2007 redesign for the Altima was a little more than a facelift, mating the QR25 2.5L 4-cylinder to a CVT transmission rather than the old 5-speed automatic. Unfortunately, the buzzy base motor combined with the elastic-band transmission turned the Altima into an Enterprise-queen. It seemed that virtually every 2007-2012 Altima I'd see had rental stickers in the back window. That being said, the 2013 Nissan Altima SV is supposedly a different story altogether.
This latest iteration however; Nissan's marketing campaigns claim that it's essentially a 180-degree turn from any Altima of the past. It's sharper-looking, supposedly more comfortable, a lot more efficient, and much better equipped. We decided to drive one for a week and find out if it's that much better, and came out pleasantly surprised.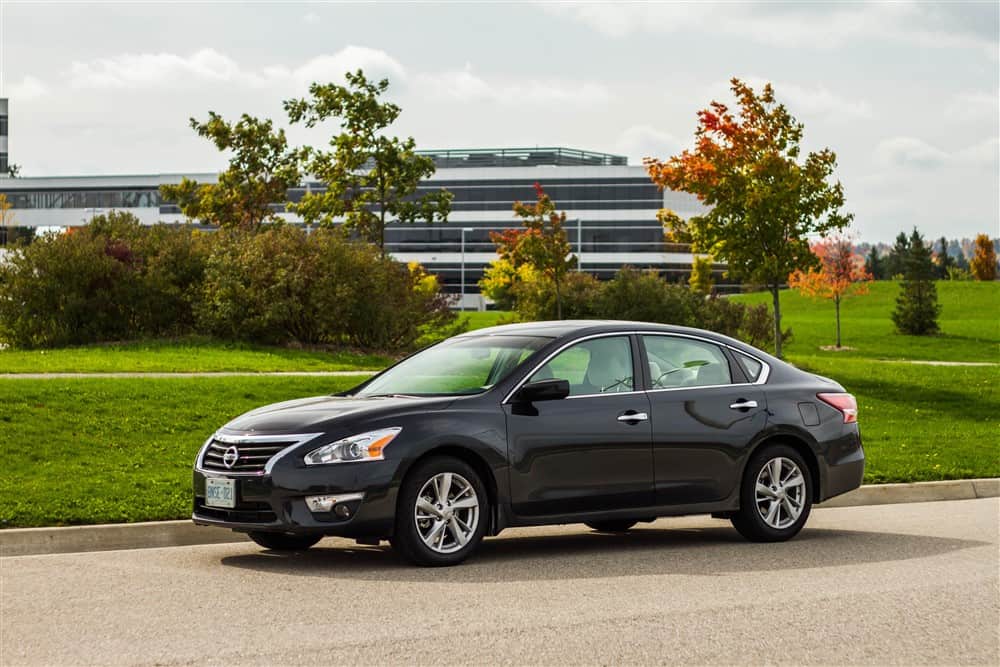 My test car was a 2.5 SV; formerly known as the 2.5S Luxury Package. Over the base model, it came equipped pretty much exactly as I'd want it to. Heated seats, a power sunroof, 17″ aluminium wheels, LED taillights, and best of all, the NASA-inspired seats. Like most people, when I'd heard that NASA was contributing to the influence of the design and ergonomics of the seats, I pictured some high-tech seats with 3-point restraints. Naturally I was dead wrong. However, the seats were a huge pet peeve I had with the outgoing Altima. They were uncomfortable, hard, and resulted in lower back pain on any drive longer than 30 minutes. These new seats have my utmost respect. They're amongst the best seats currently in the industry. In my eyes, they surpass the ergonomic levels of any other seats on the market.
The old monochromatic orange display in the instrument cluster is gone, now replaced by a full-colour 3D display. Cool as it may be, I absolutely could not stand it. While I consider myself to be a pretty tech-savvy individual, I found it nearly impossible to quickly glance down at my fuel mileage, odometer, or fuel range without my head spinning. The display isn't of poor quality, it's just the 45-degree angle that it's placed at that causes issues. It wasn't just me either; it seemed that nobody on the team was able to get the hang of the display.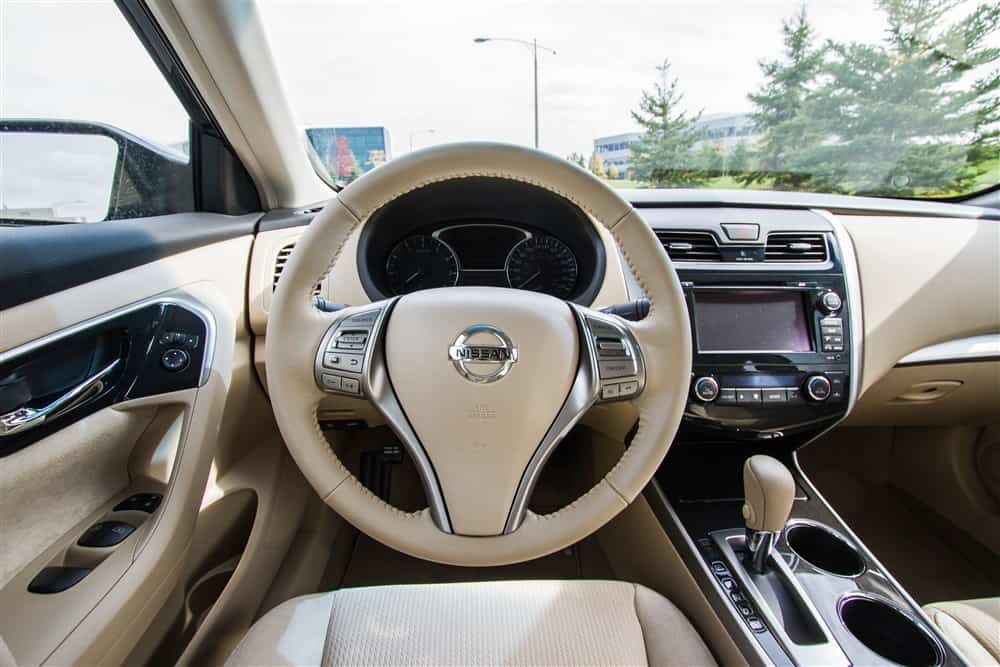 My main gripe with the previous Altima was the way it drove. The engine was buzzy, the transmission sucked away any passing power it may have had, and every single car with the 2.5 I'd driven felt like the engine was ready to fall out of it at any given minute. Despite having the same engine, now tuned for 182-horsepower, the new Altima feels like a new car. The engine is responsive, the brakes have the perfect amount of feel, and even the CVT isn't horrible. Those of you who are familiar with my writing know how much I hate CVTs as a whole. Even with the base 4-cylinder, the car doesn't feel slow or anemic by any means. It also managed to give a combined 6.9L/100km with a relatively heavy foot. Not bad Nissan, not bad.
With previous CVT transmissions, I've complained about the "fake" ratios in the manumatic modes they offered. In this 2013 Nissan Altima SV, they've taken it away and replaced it with a mode on the shifter labelled "DS". This sport mode livens up the transmission and throttle response, giving you passing power when you need it. It's actually a brilliant concept and should be considered by other manufacturers. Still, I feel as though Nissan needs to take a word of advice from Hyundai and explore the full potential of conventional automatics rather than sticking CVTs into everything they make.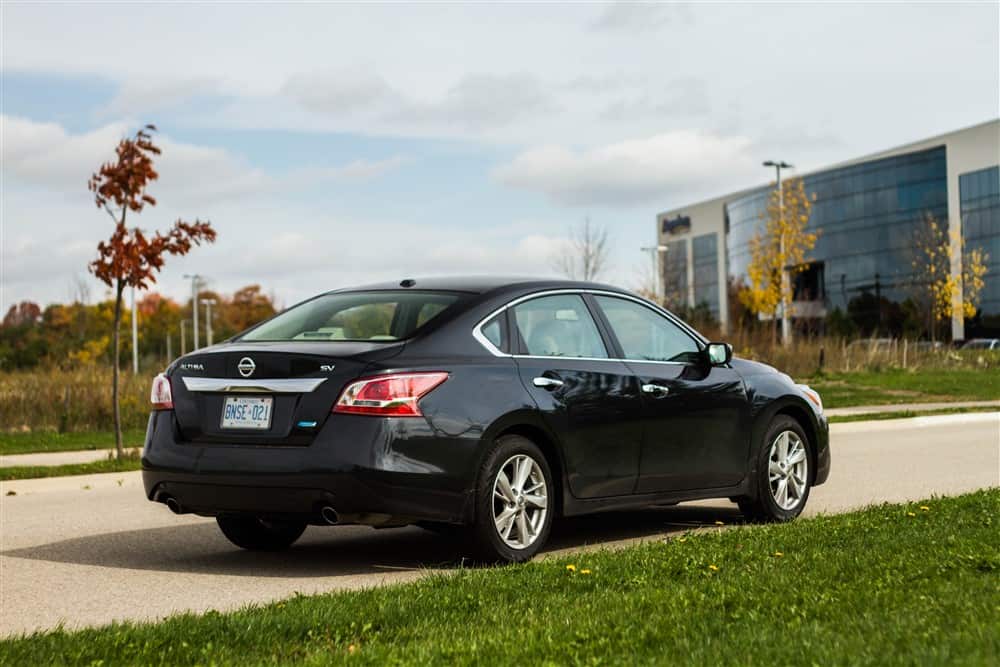 I don't quite know how I feel about the design of the Altima. Don't get me wrong; I really do like the car. It's easily my favourite of its class (let's keep in mind I have yet to drive the new Fusion) and tops its closest competitors; the Camry, Accord, and Legacy. I do feel like the styling still screams "rental" and lacks any sort of excitement. It's still an elegant looking car and from an aesthetic point of view, looks far more exciting than the Accord. My conclusion is though, that from any standpoint, there's no denying that the new Altima has a certain "je ne sais quoi" about it that exudes elegance at a very competitive price point. What do I think? It's a winner.
2013 Nissan Altima SV
1 comment