The definition of excessive Having that three-pointed star on the hood of your car has always had a few implications. It stands for things like history, heritage, prestige, luxury, and status.
Having that three-pointed star on the hood of your car has always had a few implications. It stands for things like history, heritage, prestige, luxury, and status. The 2013 Mercedes-Benz G63 AMG is all that and a lot more. I've always said that the standard G-Class, or Geländewagen, is one of the very few SUVs that I'd actually consider buying, and this new G63 is essentially everything I'd ever ask for in an SUV.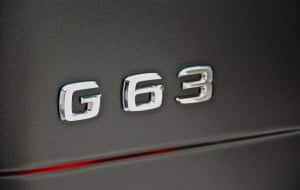 The G-Class hasn't been redesigned in decades, and that's part of its charm. The entire thing looks like a box with aerodynamics not unlike those of a concrete slab. It's marketed by Mercedes-Benz as a "Cross-Country Vehicle" and it would be my personal choice vehicle to travel the world in. In fact, I've read and heard of multiple people who have actually used G-Classes to circumnavigate the world. This new G63 brings a whole new meaning to the term "over-the-top". It's powered by a bi-turbo 5.5L V8 pumping out 544 horsepower through a 7-speed AMG gearbox. The mad Germans at AMG have fitted this one with matte black paint from the factory and a gazillion systems to manage the truck off-road.
I wonder though; if I bought a $160,000+ "Cross-Country Vehicle" (yes, I do feel slightly guilty calling it an SUV), would I actually have the cojones to take it off-road? It's easily just as capable (if not moreso) than anything Jeep makes, as the G-Class is military-grade. It certainly goes to say something that over thirty years since its introduction, there are still many countries that still use them as military vehicles. Turning the key to fire up the beast within actually startled me with the sheer sound coming from the exhaust of the G63. It is easily the most monstrous-sounding SUV I have ever heard. This is of course, taking into account vehicles such as the Lamborghini LM002. As I pulled onto the streets of suburbia, I felt a sigh of relief as familiarity struck me. As ridiculous as this AMG-powered brute is, driving in day-to-day traffic was just as simple as it is driving any other car.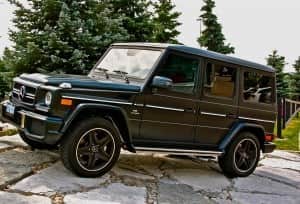 I don't think I have ever met anyone who isn't a diehard automobile enthusiast who actually likes the G-Class. It's probably the one car that has literally opposite opinions; you either can't stand to look at one, or you're absolutely brilliant and understand how legendary this vehicle actually is. Driving the G63 AMG through the concrete jungle surrounded by the superficiality of Bay Street, I have never before driven a vehicle that embodies the true meaning of knowing exactly what to do with your money. I didn't get a chance to take the G63 off-road, but honestly, I refuse to believe that anyone who actually buys the G63 AMG over a standard-issue G550 would actually take it off-road. The appeal of the G63 AMG is solely to use its 544-horsepower to demolish just about anything else off the line.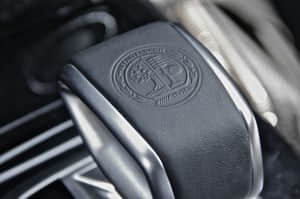 The equipment list on the G63 AMG isn't much different than any other high-end Mercedes-Benz vehicle. Things like COMAND, driving modes, adjustable suspension, and leather appointments are present. However, the sheer attention to detail on this latest G-Wagon is a monumental upgrade. The stitching on the door panels, the seats, and even the dashboard is top-notch. The suede headliner is higher-quality than I've personally ever seen before. My favourite part is, even though there isn't much on the inside that's particularly different from say, an S-Class (minus the extra three-hundred feet of headroom), there wasn't an inch on this car that feels cheap or that the Mercedes design team failed to look at. There really is no need to think outside the box when the inside of the box is such a comfortable place to be.
At well over $160,000, some may ask what's the point? Well, what's the point in a Lamborghini? A Ferrari? If everybody only bought the bare necessities, there wouldn't be anything on the roads other than used Tercels from the 90s. There's no doubt about the fact that this truck is excessive, and that's exactly what makes it nothing short of epic. To hell with vehicles like the Infiniti QX56, the Range Rover Autobiography, and the Lexus LX570. What every soccer dad needs is a G63 AMG. Trust me, you will be the coolest dad on the block.