Track-ready right out of the box! With 444 blistering horsepower (and trust me, you can feel each and every one) and a price tag just shy of $50,000, it's the most "hardcore" street-legal Mustang you can buy without a Shelby badge.
The Ford Mustang has been nothing short of the "heartbeat of American muscle" since its introduction halfway through 1964. Starting with the entry-level models enthusiasts love to refer to as hairdresser cars and increasing both in price and presence right up through the high-horsepower Shelby cars, there have been dozens of different Mustangs produced. As an adrenaline-junkie and car enthusiast, my personal favourites have always been the high-horsepower, manual transmission cars. I've also always preferred the pony car to every single other muscle car on the market. Enter the 2013 Ford Mustang Boss 302.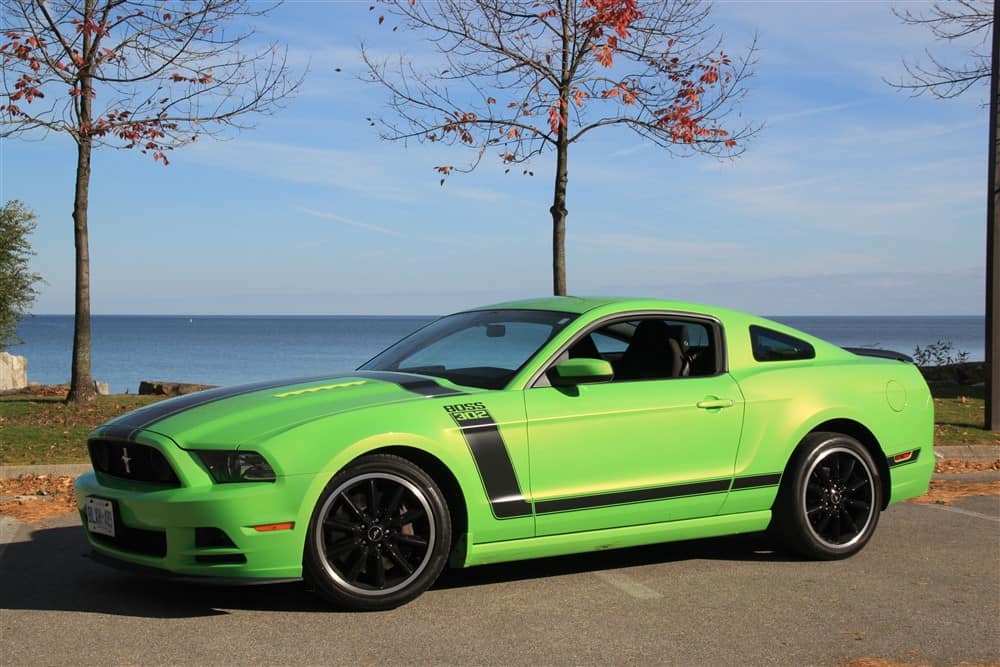 With 444 blistering horsepower (and trust me, you can feel each and every one) and a price tag just shy of $50,000, it's the most "hardcore" street-legal Mustang you can buy without a Shelby badge. It's important to note before really getting into this review that my particular Boss tester had 18,000 journalist-driven kilometers on it. While I'm sure the majority of my fellow writers have demonstrated the same amount of respect for the vehicle, this kind of fleet mileage on a high-horsepower vehicle causes inevitable tire, clutch, and brake wear causing a significant impact on the car's drivability.
The name of the colour of my Mustang Boss is "Gotta Have it Green", and what a name it is. The styling of this car is absolutely perfect in my eyes. It's the benchmark for what a muscle car should look like. Menacing, low to the ground, and absurdly large. When seated in the cockpit, you see the large hood looming ahead of you, and you immediately get a feeling of power. The only thing I'd change about the way the Boss looks is to put the fog lights back in the grille where they should be on a modern Mustang rather than in the bumper.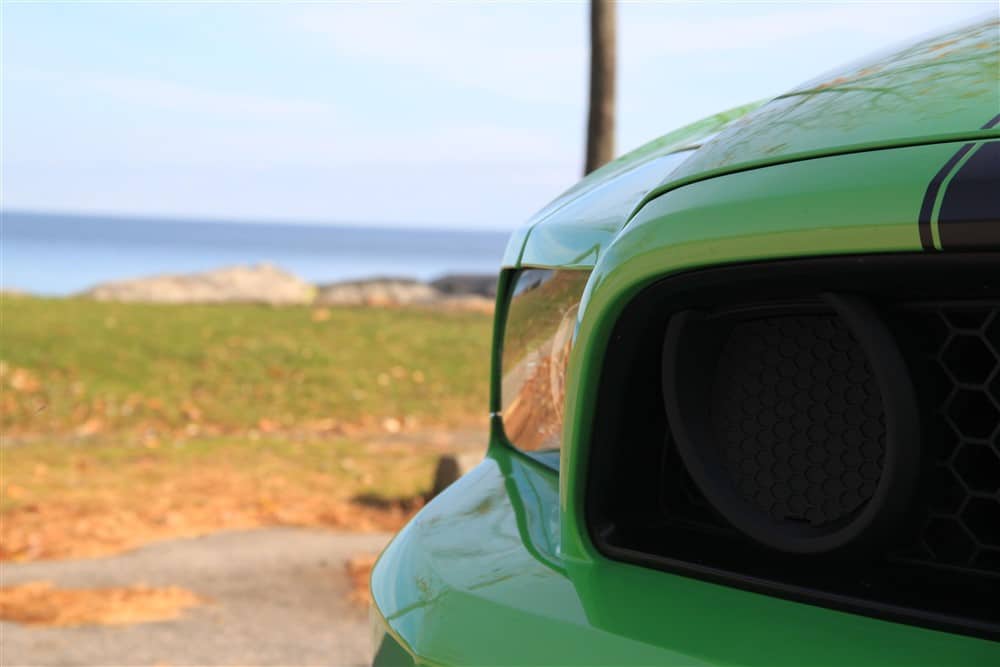 With 444-horsepower and a 6-speed manual, the Mustang Boss certainly gets up and out of its own way. As with any other V8-powered muscle car, it's ridiculously easy to get sideways. Going wide-open throttle from 80 km/h in 4th gear gave me wheelspin, but again, that's very plausibly due to the tire situation on my test car. Any novice drivers should pay careful attention when I say that turning traction control off should seriously be left to the professionals. I don't mean those who have gone to a couple of track days after being invited to join Facebook groups about them, and I certainly don't mean those organized by the local Honda Civic chapter. The slightest mishap with this car could become fatal far too easily.
The Boss 302 package gives you things like an intake, slightly improved suspension, Recaro seats, a shorter shifter, and a few other bits including unique wheels and tires. The idea is to make a standard Mustang GT into a more track-oriented vehicle, and it completely succeeds. The Boss 302 lacks any sort of creature comfort. There are no heated seats, no navigation system, no Smart Key, and the seat adjustments are manual. A dear friend, unfortunately blinded from all things automotive, commented on the lack of a sunroof while out with me in the Boss 302. Clearly, Ford didn't design the car for anybody but pure petrolheads. Oh, and driving it on the highway cruising at a steady 105 km/h gave me a pleasant 9.4L/100km. However, a quick jaunt through the city automatically jacked that nice average right up to 15.3L/100km. It's also important to note that unlike the standard Mustangs, the Boss 302 requires premium fuel.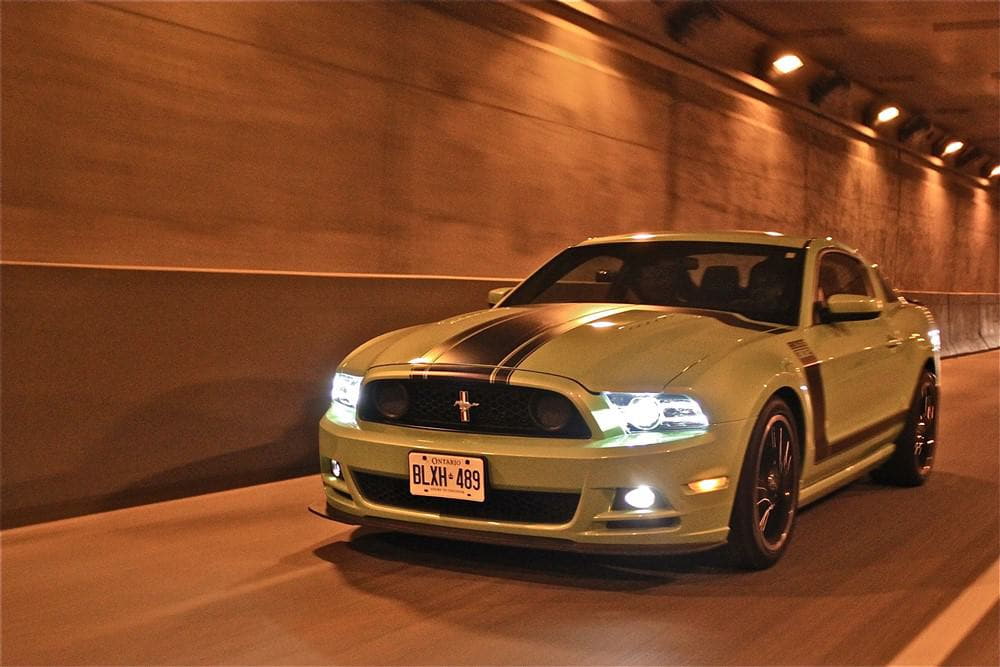 I absolutely love a few things about the Boss 302; the mind-blowing power, the true rumble of a classic American V8, and the sheer amount of looks that the big green monster gets at absolutely any venue. However, there are a few things I absolutely despise. For instance, I found the shifter far less precise than the one in the standard Mustang GT. The Recaro seats are supportive and grip your body very well in track situations, but in everyday driving they're nearly unbearable. Then of course, there's the ride. On the track the car feels planted and poised, but on any other surface the ride is absolutely atrocious.
The Mustang Boss is a brilliant machine; it's catered specifically for track weekends. If you have a year-round car that you're already satisfied with, and have enough disposable dough to put down on something with immense capabilities and even more immense presence, it's hard to beat the 302. Those who are able to put aside comfort, fuel mileage, and any sense of practicality however, gain a huge amount of respect from me.
2 comments