Yeah, it's got a HEMI Fast. Obnoxious. Ridiculous. Obscene. These are all words used to describe Chrysler's 300C SRT-8.
Fast. Obnoxious. Ridiculous. Obscene. These are all words used to describe the 2013 Chrysler 300C SRT-8. Sitting at the top of the 300 lineup, the SRT-8 is an absolute monster with nearly 500 horsepower. Using Chrysler's iconic "Hemi" engine, the SRT is not to be confused with any other 300. It's not meant to be a luxury cruiser to compete with the likes of full-sizers from General Motors and Ford. It's meant to smoke nearly anything it comes across in a straight line while sounding incredible at the same time.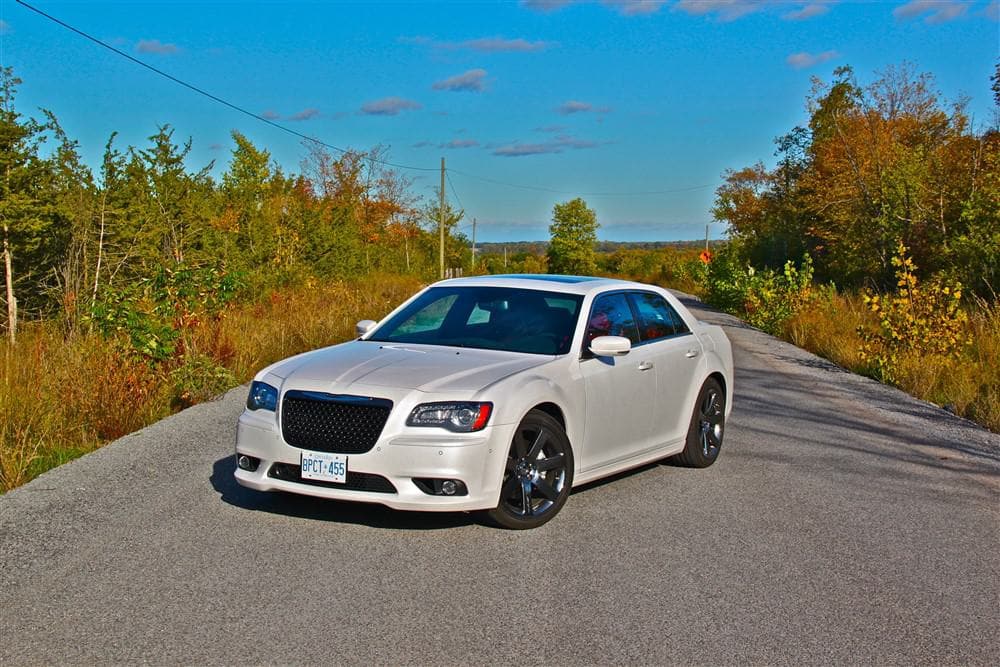 Powered by a 6.4L V8, this latest SRT-8 puts out 470-horsepower and 470 lb-ft of torque. While these numbers seem absolutely ridiculous (up from the 425-horsepower of the previous generation), it's important to take into account that the 300C weighs just over 4300 pounds. It certainly gets up and goes, and the engine note from the interior is just about perfect. I personally poured years into heavily modifying an older Mopar product, tuning for hours and hours until I got the perfect sound and feel, so to hop into a factory vehicle and fall in love with the setup as-is was a huge plus for me.

The SRT-8 comes track-ready too. Much like the Track Tools available on the Ford Mustang, my 300C came with SRT menus in the instrument cluster. These allowed me to measure 0-100 km/h times, braking distance, and a few other neat things that'd be highly beneficial on the track. Based on our tests, the SRT-8 flies to 100 km/h in 4.5 seconds. This puts it right on par with its sibling, the Dodge Challenger SRT-8, as well as the Ford Mustang GT. As expected, the 300 doesn't go around corners at all. If your daily commute consists of one straight line with zero corners, you shouldn't have any problem driving this one.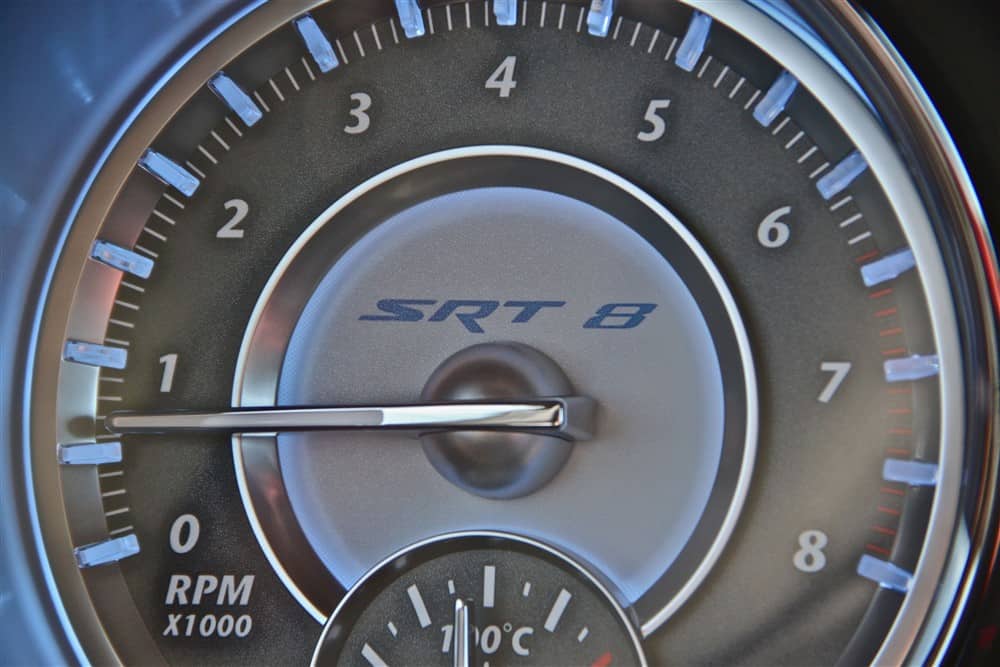 While the main focus of the SRT-8 is performance, it's important to note that in terms of the presence of luxury features, this car is also Chrysler's flagship sedan. For an as-tested price of just over $55,000, it comes with almost everything you'd expect from an Mercedes-Benz E-Class or BMW 5-series. Adaptive Cruise Control, navigation, heated and ventilated seats, and a panoramic sunroof are all standard. Also, my tester was equipped with the premium Harman Kardon audio system with 19-speakers and a 900-watt amplifier. I'd go as far as to say this is one of the best sound systems I've ever heard in a "mainstream" car. I'd say it's up to par with, if not better than the Bowers & Wilkins setups in the Jaguars (XJ and XKR) I spent the last few weeks with. Streaming music seamlessly from my trusty iPod, browsing through playlists and albums is simplified and lacks the lag of the Ford/Jaguar setups as well.
One gripe I did have with the SRT-8 was the seats. The red leather seats with SRT embroidery and the suede inserts are certainly a treat to look at, and at first seem comfortable, but after the first half hour or so I began to have complaints. SRT seats have always been supportive around corners and even for long highway hauls. It seems that this is no longer the case. These seats lack the support of the first-generation SRT 300/Charger, and sit far too high. Even with the generous power adjustability and lumbar support controls, I found it nearly impossible to find a comfortable driving position. Each time I stepped into the 300, I felt as though I was getting into the Grand Caravan my dad had while I was growing up.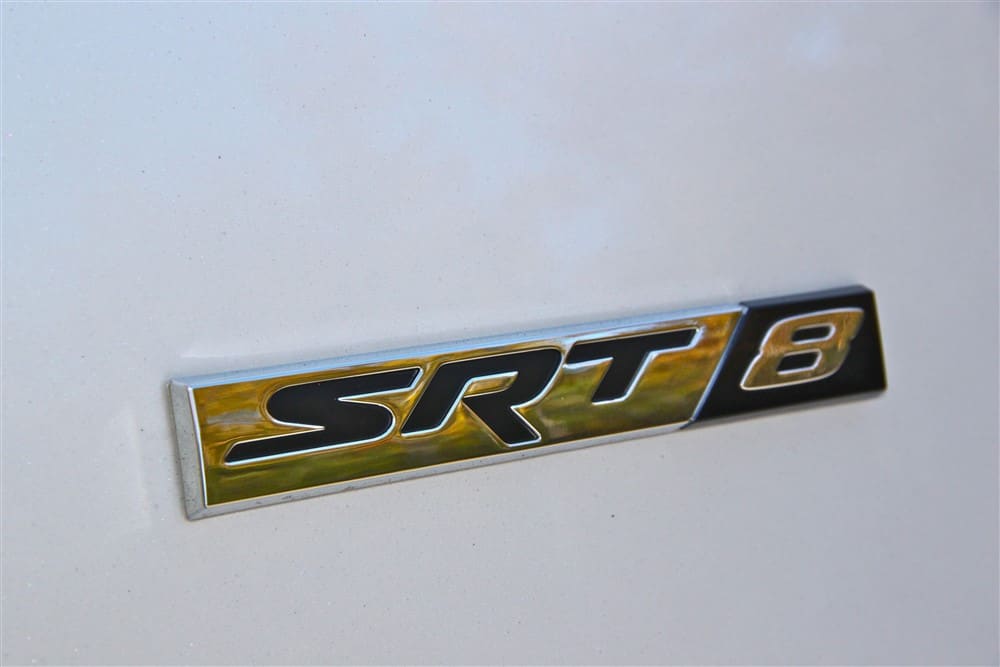 Those in the market for an SRT-8 of any kind likely do not care in the slightest about its gas mileage. If you genuinely care about your fuel mileage, you won't be buying in this class to begin with. However, I was legitimately befuddled when I somehow managed to get 9.1L/100km highway in the 300C SRT-8. This is over a few hundred kilometres using the Adaptive Cruise Control. Driving it daily, mixed highway and city, with an aggressive foot, which is exactly how the majority of these cars bought will be driven, I still managed to get 12.5L/100km.
Conclusively, do I like the car? I genuinely do. I'd never buy one, being a bachelor with a city commute; I have no reason to own a vehicle like this. I will go as far as to say that I personally like it a lot better than the Ford Mustang GT. The 300C SRT-8 may not be my preferred transmission (manual), and the five-speed automatic may be primitive, and it may not handle very well (read: doesn't go around corners at all), but there's no denying the fact that stepping on the gas pedal in Sport or Track mode will have even the biggest alpha male personalities giggling like 13-year old girls. This one's a keeper.
2013 Chrysler 300C SRT-8 Gallery
5 comments