Yes, it's really only half a car.
As I was sitting at a traffic light on Dundas Street in Mississauga driving the all-new 2013 Chevrolet Spark, I glanced over a lane to see a man in a late model Honda Civic checking out the Spark. I thought to myself, "here we go; people are befuddled at how small this thing is". The man then burst out laughing after giving my little Spark a quick once-over. As I saw him laugh while simultaneously shaking his head, I came upon a realization. Trendy, hip, and new as it may be, it's absolutely impossible for a professional to be taken seriously driving a car of these proportions painted in "Jalapeno Metallic".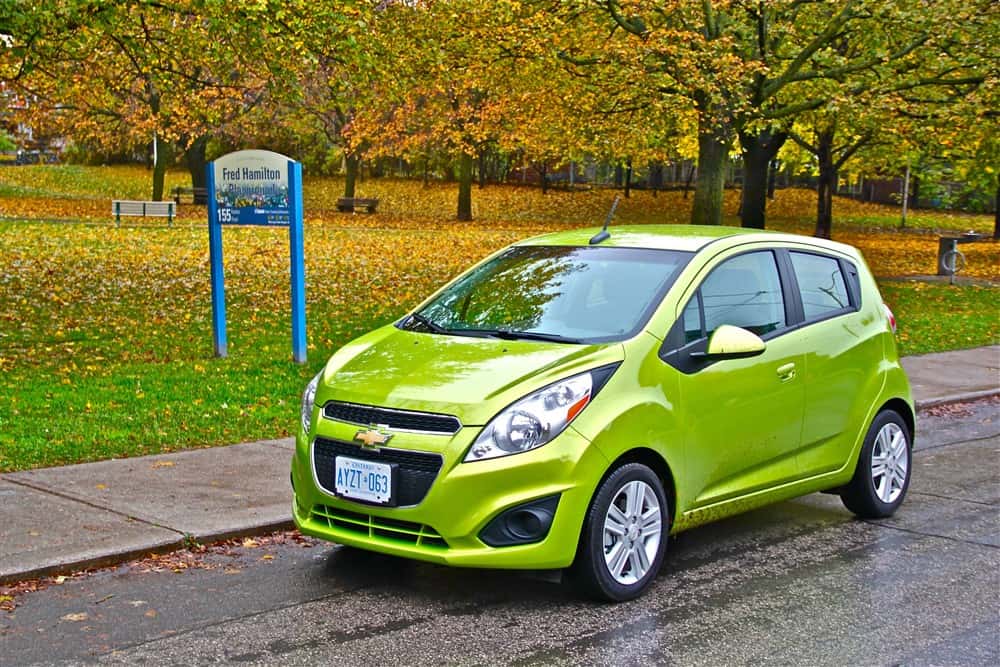 Priced at a nearly laughable $19,545, my Spark 1LT tester came equipped with nearly everything you'd expect from a mainstream "cheap car". It comes with air conditioning, power windows, locks, remote keyless entry, and tilt steering. Some additional (unnecessary for a vehicle in this class) features come on the 1LT, such as Chevrolet's MyLink touch-screen audio system, Bluetooth connectivity, and a trip computer to calculate your wonderful fuel economy. If I were shopping for a cheap compact to boot around the city with, I personally would pass on half those options just for the simple fact of keeping the price down.
Powered by a 1.25L 4-cylinder engine putting out 83-horsepower, the little Spark isn't going to win any races. No seriously, I'm sure the standard 5-speed manual zips around the city with ease, but the 4-speed automatic is absolutely abysmal to get anywhere. Merging onto the highway from Mississauga, it would likely take the entire length of the city of Toronto to get to speed. While at highway speeds the Spark sits at a healthy 3000rpm, the engine wails like a baby whose lollipop has just been stolen.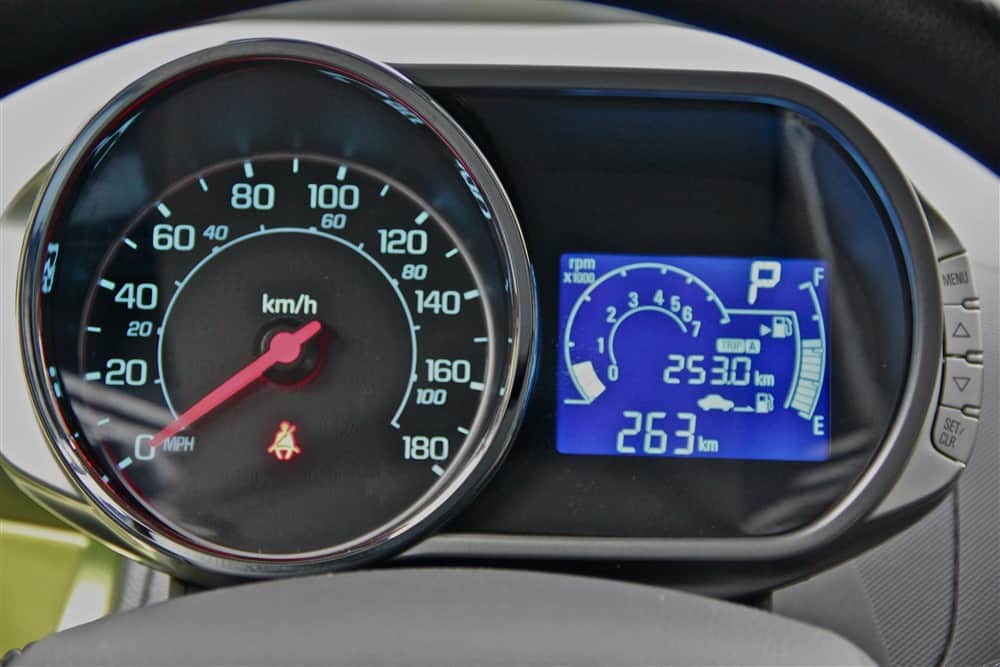 While it may be an almost unbearable level of slow, the Spark does have its plus sides. If you have a 100% city commute, can't afford a Nissan Leaf, and absolutely need the added convenience of rear doors, it's hard to go wrong. Seeing as a base Spark can be had for just about $13,000, it's the true definition of cheap, honest transportation. This new Chevrolet Spark is what the Volkswagen Bug was introduced as over half a century ago, and I truly feel as though more cars of its class should be brought over from the European and Asian markets.
On trips to Asia and Europe over the past few years, I had the opportunity to drive quite a few subcompacts that aren't sold in North America. My favourite little hatches were the Suzuki Swift Diesel, the Hyundai i10 Petrol, and for nostalgic reasons, the "heartbeat of India", the Maruti-Suzuki 800. I couldn't help but feel that North Americans are accustomed to vehicles that are absurdly large for absolutely no reason. It shouldn't just be city-dwellers who these micro-hatches are aimed towards; they'd be a fantastic alternative for say, Corolla drivers. They're cheap to buy, they're very cheap to maintain, and while significantly more space-efficient, the lack of interior space over a Mazda3 or Toyota Corolla is marginal.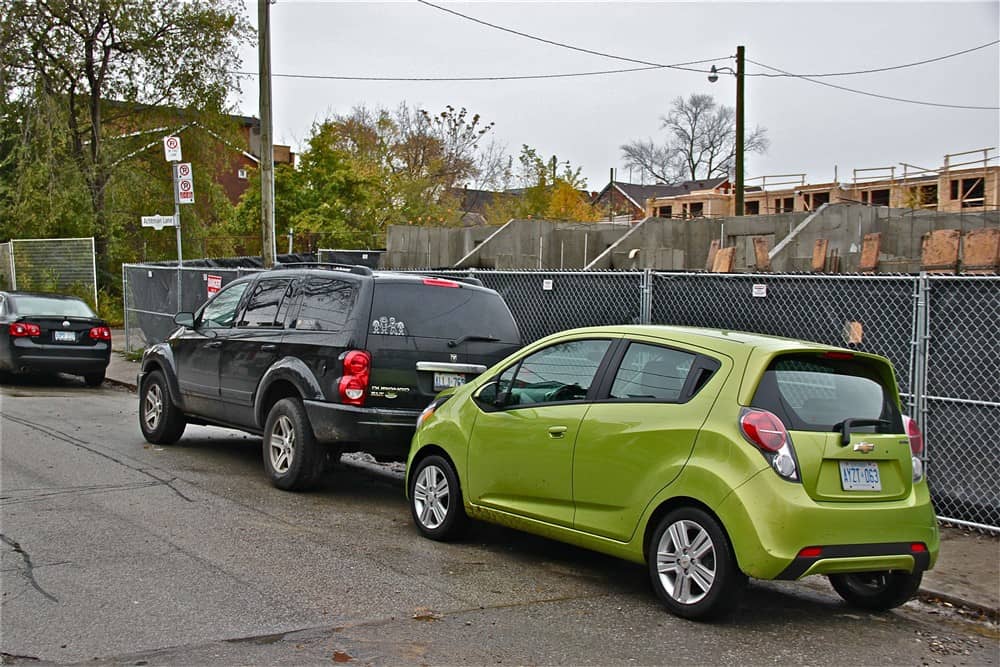 Is the Spark good? Here's where the Canadian consumer will need to learn to contextualize. I took an enthusiast friend out for a spin in the flamboyantly green Spark, and all he could exclaim was, "dude, seriously?" During our 45-minute drive, I decided to take advantage of this time to lecture some much-needed sense into him. This friend has a 110 km daily commute to work and back. He currently drives a vehicle that, at 10-years old, gets 10L/100km. He could benefit from the added space and comfort of a bigger car as well as luxury features he could play with. Therefore, the Spark isn't targeted towards him in the slightest bit.
However, for a high school, college, or university student who commutes to school and back, the Spark's observed 5.6L/100km city would be very beneficial. Also, the rear hatch and split folding rear seats would help haul a plethora of clutter back and forth from campus to the parents' house. See; the Spark may not be phenomenal to look at. It may not get you anywhere very quickly; nor will it make you look like a budding entrepreneur as you arrive to a business meeting. What the new Chevrolet Spark should be though, is the future of North American city motoring. If Europe can do it, why can't we?
2013 Chevrolet Spark Gallery
3 comments