An EBOR Segment A lot softer and more bearable on-road than its ancestor, the Toyota FJ40, the Cruiser is supposed to be an off-roader that's bearable and exciting even in an urban setting.
The only way to describe the 2012 Toyota FJ Cruiser is "totally badass". A lot softer and more bearable on-road than its ancestor, the Toyota FJ40, the Cruiser is supposed to be an off-roader that's bearable and exciting even in an urban setting. It's certainly a striking vehicle to look at, and in my opinion it's a lot more pleasant (and less cliché) than a Jeep Wrangler. Equipped with this "Off-Road Package", my FJ nearly breaks the bank at $36,895. At that point I started thinking as to whether or not it was even worth it versus the significantly cheaper Wrangler.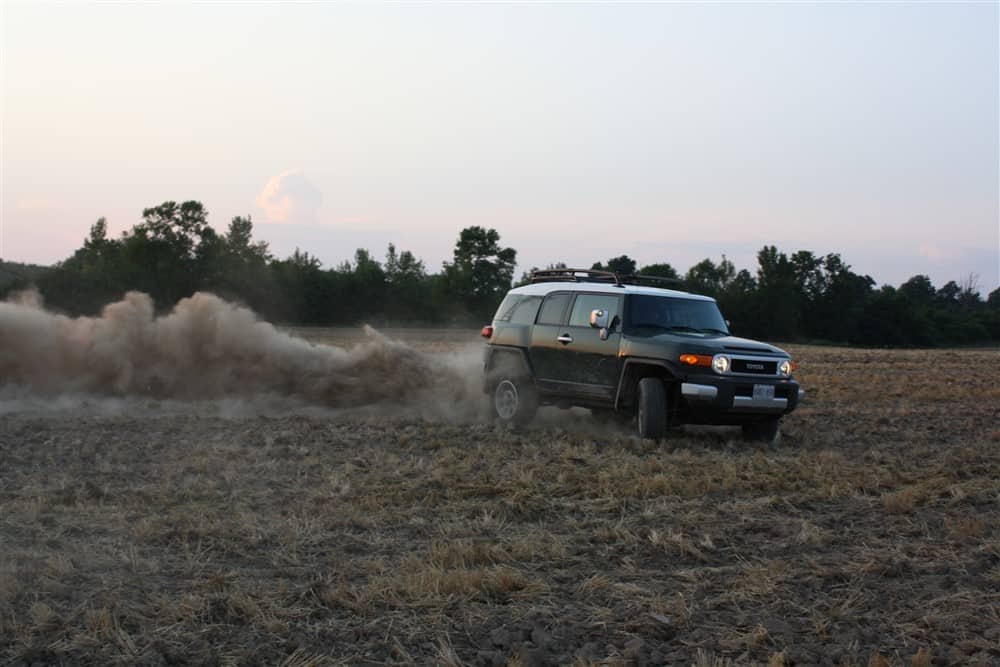 Powered by a 4.0L V6, the FJ Cruiser puts out 260 horsepower, but it feels more like 26. The FJ is an absolute slug and is tedious as all hell to drive in the city, and its handling is not unlike that of an International school bus. However, the second I bounced it into an off-road trail, all that was forgotten. It was infinitely smoother than a Wrangler or our very own heavily modified Nissan Xterra. The huge tires and 93 traction control systems worked to the FJ's benefit as it lumbered through any and all obstacles without a care in the world. It seemed as though nothing could stop it. The FJ didn't bottom out in more than a few spots where a friend's 2011 Wrangler Sport was thankful for its skid plates. The most surprising thing about the Cruiser was that it didn't even need 4LO throughout the entire trail.
The list of creature comforts on the FJ Cruiser are absolutely atrocious. I mean, it's understood that it's intended to be an off-road vehicle, but it was designed as a "Rugged Youth Utility". This means that even though it's a vehicle that's able to go off-road and be useful when camping, hiking, etc; it's still supposed to be comfortable to drive on a daily basis. The ~$4,000 Off-Road Package gives you cruise control, remote keyless entry, power-mirrors, and some other little gizmos that are typically standard on any new vehicle produced today (especially one that costs over $30,000).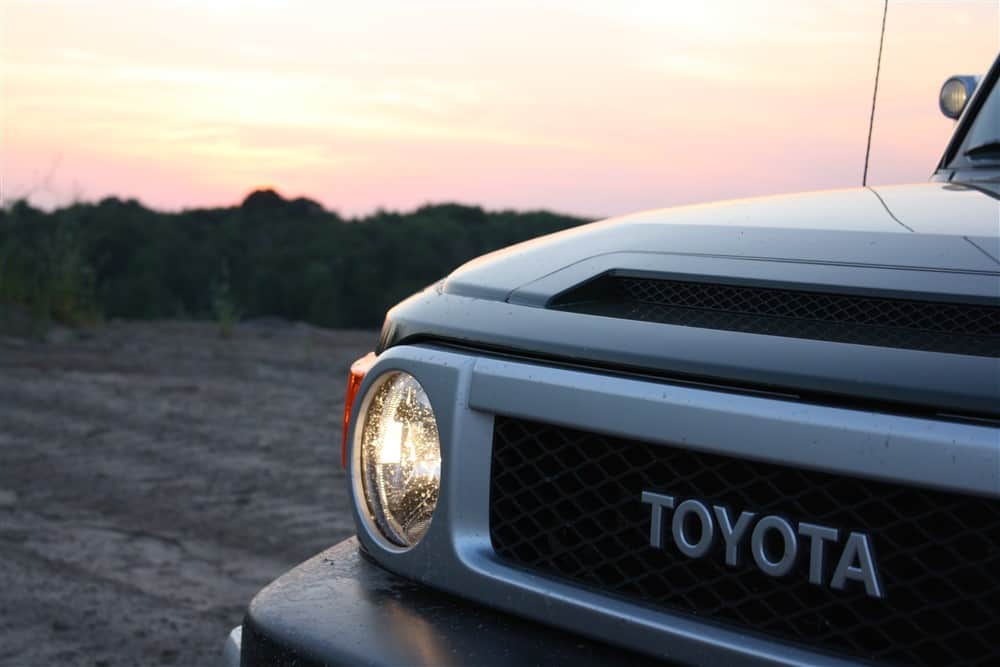 Despite the fact that my tester was equipped with a 5-speed automatic that made it infinitely easier to pilot the FJ through the narrow streets of Toronto, I still maintain the fact that the standard 6-speed manual would make this truck a lot more fun to drive. This is, of course, taking into account that the typical 16-year old kid, whose parents bought him an FJ Cruiser to go to school, will ride the living crap out of the clutch trying to get it out of ruts he may get it stuck in. Luckily for little Billy, the FJ is highly unlikely to get stuck in the majority of amateur trails. My observed fuel economy on-road for this thing was 15.2L/100km. It's not absolutely awful for a vehicle in its class, but I would certainly have liked to have a bigger gas tank. It appeared to me as though the needle on the gas gauge moved every single time I looked down at it.
The interior of the FJ was surprisingly roomy. The quasi-Mazda RX-8 half doors in the rear will certainly come in handy for little Billy to stick his "dudes" in the back. One thing I did notice is that the rear doors are ridiculously difficult to close from the inside. They open at a downward angle so it's as if you literally have to lift them to close. There's no pull from the inside, so you either yank on a piece of trim or grab the door from the outside (which could result in a very muddy hand, depending on how far off the road you've ventured).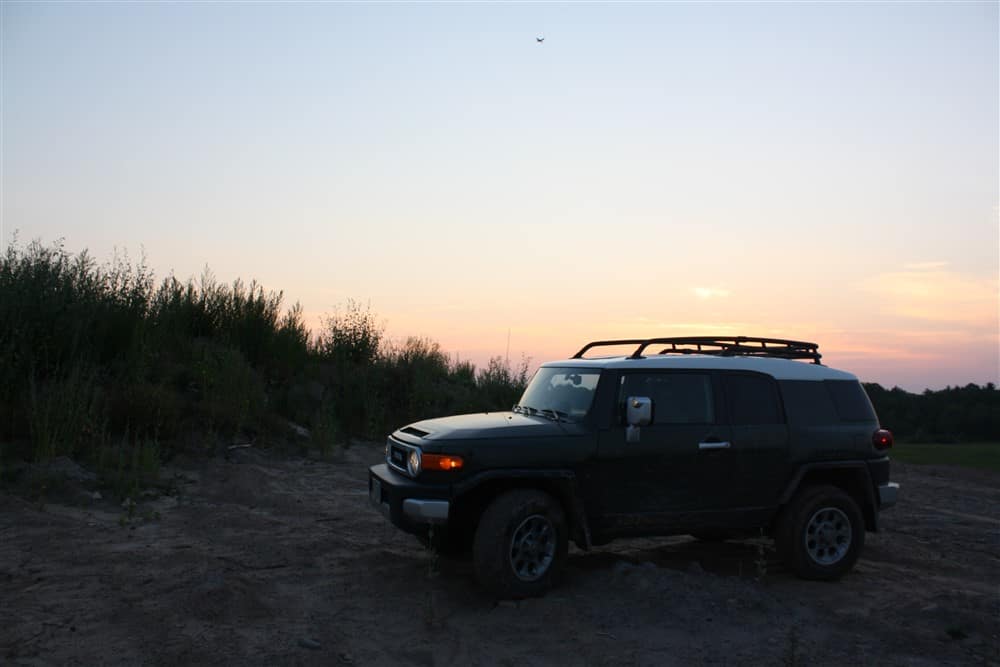 When I showed the FJ Cruiser to a couple of non-enthusiast friends, their reaction was pretty straightforward. "It sucks on gas, it's slow, and it's no fun to drive. Who in their right mind would buy it?". The answer to that question is very simple, and the ideal conclusion to this article. It may be slow, tedious, and thirsty, but if you buy the FJ to drive on-road 24/7, you clearly don't get it. It's the young outdoorsman's ideal vehicle. It's more bearable on-road than a Wrangler, it's more composed off-road than a Wrangler, and frankly, it'll be way more reliable in the long run. Jeep may have laid out the foundation, but Toyota's back in full force and powering right through Jeep's tracks.
1 comment