Badge engineering at its finest! Does anyone remember the Ford Freestar Limited of nearly a decade ago?
Does anyone remember the Ford Freestar Limited of nearly a decade ago? It was essentially a Freestar minivan lined with all of Ford's available luxury features, priced at close to $60,000. The funniest part about this was that some people actually voluntarily paid $60,000 for a Ford minivan. This 2012 Lincoln MKT is supposed to be a quasi-successor to the infamous Navigator, but it's essentially a Freestar Limited. Confused? Don't worry, I'll explain.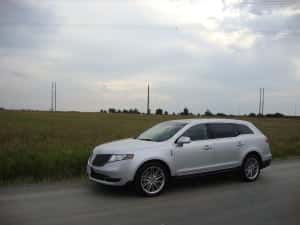 Ford/Mercury have been known for decades to do shameless brand engineering and market the same vehicle under two or more names. A few example are the Ford Tempo/Mercury Topaz, the Ford Taurus/Mercury Sable, and more recently, the Ford Fusion/Mercury Milan. As of late, with the demise of the Mercury brand, this brand engineering has expanded to the Lincoln brand. Enter, the $63,230 Lincoln MKT. At first glance it may look like a slightly lower version of what an updated Navigator might look like. However, all it is is a Ford Flex Limited in sheep's clothing. Every single thing about this car screams Flex (and I'd know; I tested the Flex not more than a month ago).
Starting from the 3.5L EcoBoost engine, the 6-speed automatic transmission, the power-folding bucket seats; everything is absolutely identical. Other than the styling, there are very few differences between the two vehicles. For one, the seats and interior decor is slightly more upscale (for $10,000 more I'd expect so!). The second-row seats are cooled as well as heated, which is actually one of my favourite things about the MKT. One thing is certain about this 'van' though; it definitely gives you the feeling of being in an upscale vehicle. Perhaps it's the Lincoln badge on the steering wheel and key, or maybe it's the fact that there appear to be soft-touch leather-esque materials nearly everywhere inside it.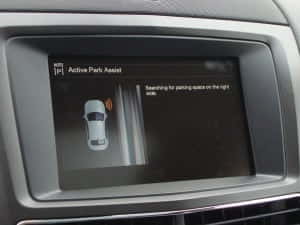 Toys like Active Park Assist and a lane departure system that makes the steering wheel vibrate if you veer out of your lane are standard-issue Ford. The 4-part MyFord Touch system is given a slightly different name, but is literally the same system you would find in nearly every current Ford model. I personally disliked this system the first time I tried it, and it has failed at its numerous attempts to redeem itself. The system feels like it's powered by a Pentium I processor and is not user-intuitive in the slightest bit.
I fail to see how the MKT's ~$65,000 price is justified, other than the fact that it has a direct competitor. This big Lincoln minivan is essentially a slightly cheaper alternative to the Mercedes-Benz R-Class. Shoppers of the R-Class will never stoop as 'low' below their level of prestige to even remotely consider a Ford Flex, but I assume Ford's marketing division feels as though consumerism will take over and they will be blinded by a Lincoln badge on the grille. I still don't believe that Mercedes-Benz consumers would even bother to look at Lincoln, but again, I could be very wrong.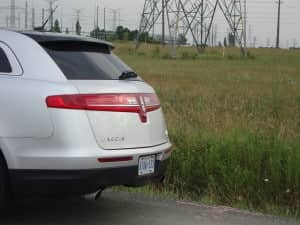 The styling of the MKT is actually quite striking and not unlike the Mark VIII of the early 90s; especially the rear end and taillight design. Frankly speaking, I'd much rather drive something like the MKT (even taking into account how absurdly large the darn thing is) than any "cute-ute" they have on the market today. This minivan is an absolute dream to drive on the highway or on long trips. Feedback from the steering wheel makes it less of a chore to drive in the city, and my observed fuel economy was a surprising 10.3L/100km. From a 3.5L twin-turbo, that's not bad in the slightest!
Would I buy one? Absolutely not. If I were in the market for a minivan, I'd save $15,000 and buy a fully-loaded Honda Odyssey. Then again, I'm part of the small group who would much rather drive a minivan than some sort of large SUV that's overkill for two kids and a Labrador (Yukon Denali; I'm looking right at you). The MKT definitely has an identity crisis, but that's just part of its charm. As long as it fits in your garage, it'd make an excellent family shuttle. Power-fold the third row flat, and Fluffy can hop in the trunk too! Recommendation for Ford; give us a diesel option (even if it's on the Flex)!