Sport compact perfection or rice? It's only a matter of time before the negative stigma around the Kia nameplate is eliminated completely, as people begin to realize that they make a stellar vehicle that appears built to last.
A vehicle no one really knows exists, the Kia Forté Koup is an extremely competitive player in the sport compact market. It's only a matter of time before the negative stigma around the Kia nameplate is eliminated completely, as people begin to realize that they make a stellar vehicle that appears built to last. To prove this, I decided to drive the sportiest thing they make; the 2012 Kia Forté Koup R with the luxury package and the manual transmission.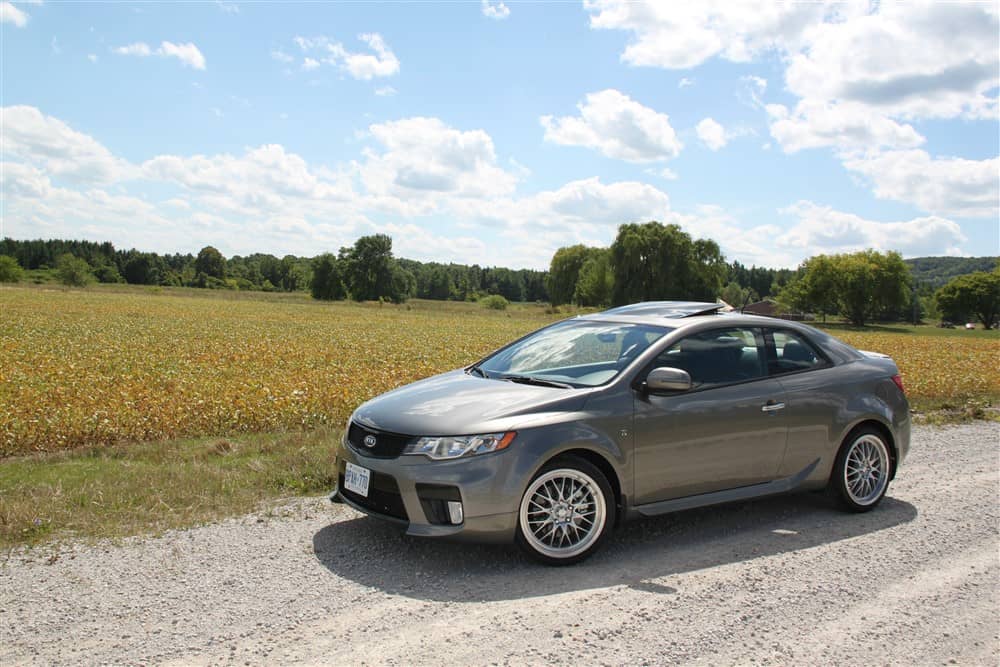 At $26,300 on the road, my Koup R SX is a bit of a bank breaker for having a Kia badge on the hood, but I'd rather compare it with the likes of the Mini Cooper S and the Volkswagen GTI. Sporting a front-wheel-drive, inline-4 powertrain with a 6-speed manual transmission, the Koup is a zippy little thing both in the city and on the highway. The 2.4L puts out 173 horsepower, but feels like a bit more. At roughly $10,000 less than a comparable 3-door GTI, Kia presents a compelling reason to consider this more viable option.
I drove the Koup R through a twisty canyon road called "Snake Road", notorious for its hairpins and narrow passes. Following my colleague in the 5.0 Mustang, the Koup excelled through the corners. I was legitimately befuddled as the Mustang's 444-horsepower peeled away in the straights, but with this road being riddled with tight corners, the Kia was right up on it. The modest horsepower rating means there was little to no torque steer at all, which was a "forté" of the Forté. To compare, the Mazdaspeed3 may very well have over 260 horsepower and the ability to haul ass in a straight line, but the level of torque steer it has takes away from its appeal. The Koup is a much more balanced vehicle to drive.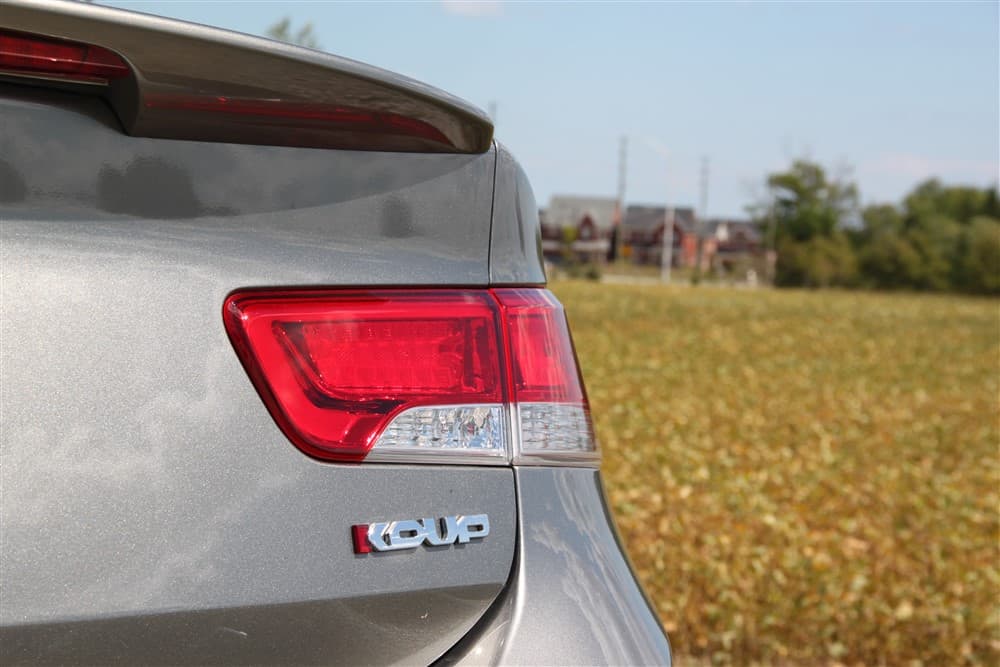 My Koup tester was absolutely loaded with every option imaginable. The options once considered a luxury on anything bearing the Kia badge such as power windows and locks are now taken for granted, especially with gadgets such as touch-screen navigation, heated leather seats, Bluetooth, and iPod sync equipped on this SX model as well. The R-package also comes with 17″ alloys that look like they're aftermarket, clearly targeted toward the suburban youth. It also has a performance exhaust added on that actually sounds great at idle, however it drones an obscene amount under acceleration. While throwing some groceries into the trunk of the Koup while idling, I commented to a colleague as to how great the car sounded from the outside. I retracted my words five minutes later when accelerating moderately from a traffic light. I knew for a fact the second tuners in their Civics were giving the car a thumbs up that it wasn't something to be proud of.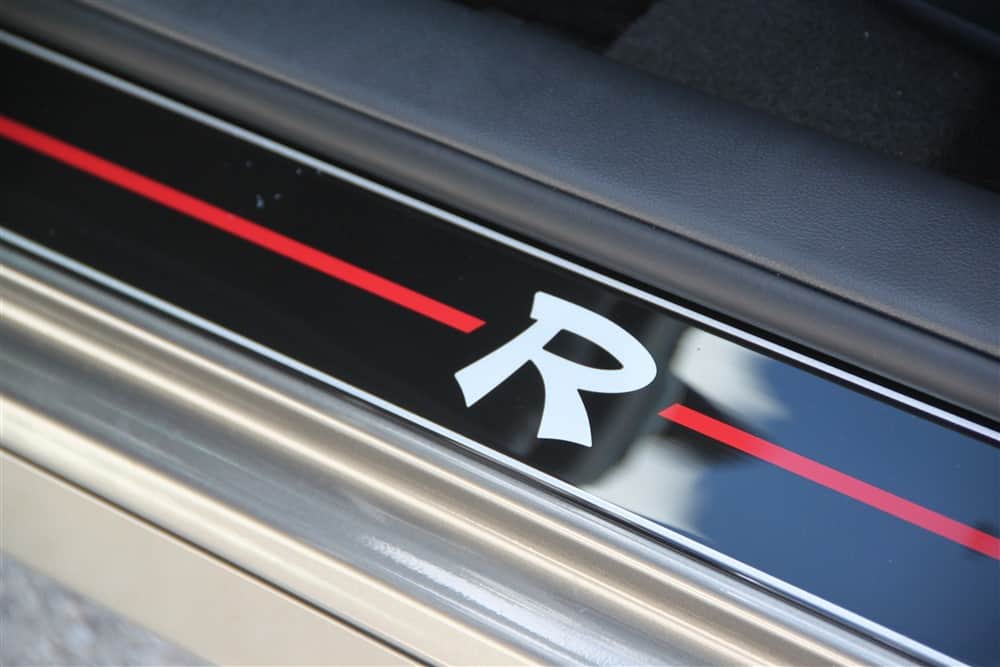 The Koup may be an efficient, comfortable runabout in the city, but on the highway it's a different story altogether. There's a good amount of exhaust drone inside the cabin, and it sounds nothing short of a Canadian Tire muffler unnecessarily bolted onto the car. It does get great fuel mileage both city and highway (I observed a combined 7.6L/100km average), but Hyundai/Kia really do need to work on their clutch engagement point. It's nearly impossible to drive this car smoothly even after countless attempts by various drivers. It's a shame really, considering the shifter is nearly Honda-levels of perfect.
I like the Koup SX, I really do. It's the R package that ruins the entire experience for me. The exhaust is unacceptable, the wheels look tacky, and I feel like manufacturer-offered packages such as this are only going to encourage the "Fast & Furious" community to beef up their vehicles with illegal parts. The automakers need to get one thing straight; this market is clearly targeted towards youth, right? Well, these youth are all on budgets, and they can't afford to go to the dealer to buy an OEM JDM set of wheels for their Civic or Lancer. Instead, they're going to go to the nearest curbsider or even slightly more reputable shop and buy a set of wheels at a fraction of the dealer's price. They're just not going to buy a car like this for $26,000; it just won't happen when a used GTI or Civic Si is available with so much more potential on the aftermarket and have more 'street cred'.
Save your money, buy a regular Koup that's not "race-inspired"; it's actually a great car.
1 comment