This fat cat roars rather than purring It seems that these days, everyone successful (and evidently, unsuccessful) who wants an ostentatiously large four-door ventures toward their closest Mercedes-Benz dealer and purchases the first S-Class they see. Why?
It seems that these days, everyone successful (and evidently, unsuccessful) who wants an ostentatiously large four-door ventures toward their closest Mercedes-Benz dealer and purchases the first S-Class they see. Why? It's the quintessential status vehicle to show your neighbours and friends that you have made something of yourself. This isn't the case anymore. While those who aren't car enthusiasts or familiar with the industry may still be wowed by the three-pointed star on the front, anyone who does five minutes of research can tell that there are a whole bunch of new players in this competitive class. A particularly unique new player is the 2012 Jaguar XJL Portfolio.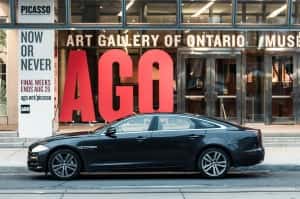 At just over $100,000 as-tested, it's the most random and off-beat choice in the current lineup of flagship luxury sedans, and also quite possibly the most ostentatious. Its in-your-face styling definitely turns heads, and especially in the case of this long-wheelbase model, definitely makes a statement announcing your arrival. I'll go on to discuss how it drives, but let's get one thing straight: the long-wheelbase XJ Portfolio isn't a car to drive, it's a car to be driven in.
Powered by a 5.0L V8 putting out 385-horsepower, the Portfolio definitely has enough 'get up and go' to get you out of any sort of sticky situation you might land yourself in. Plus, your chauffeur most likely has the driving skill required for a quick getaway anyhow. The optional 1200W Bowers & Wilkins stereo is legitimately one of the best sound systems I have ever heard in a car. There's definitely a reason B&W is right at the top in terms of audio. This system has the perfect balance of bass, treble, and equalization. The air-conditioned seats are definitely a welcomed option in the heat of this summer, however I did find that the massage function on this Jaguar was a tad awkward in its movement and patterns.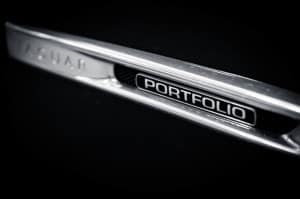 At over $100,000 however, there's a certain level of expectation I got into this car with. I already expected it to be exceptionally comfortable, quiet, smooth, and serene. While the quality of the materials and the overall craftsmanship of the Jag was nothing short of stellar, I found that there were a few significant features that the car lacked. For one, the absence of laser-guided or intelligent cruise control is absolutely unacceptable in a car with this sort of price tag (save for an exotic sports car). If the $40,000 Hyundai Genesis and the Infiniti G37 come standard with it, there's no reason for Jaguar to make it an option. It's nearly as bad as BMW having the audacity to charge $350 for cruise control on their entry-level 3-series a few years ago. Secondly, the power from the engine felt as though it was lacking in some 'oomph'. While the car does get up on its feet and go, it feels as though it needs way too much effort to get anywhere. Engaging "Dynamic Mode" certainly makes the car peppier, but it still feels like navigating a schooner through the high seas.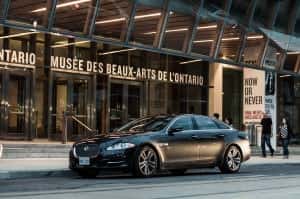 As I said earlier, there are plenty of fantastic choices in this segment. In fact, there really isn't a poor choice when shopping for a ~$100,000 luxury sedan. The edge must go to the manufacturer that goes over-the-top enough to make their car more than just a comfortable land yacht that tries to be sporty. There's no denying that BMW has the "ultimate driving machine" pedigree, and the 7-series may be a tad obese but it still has athletic dynamics. In my eyes, the Jaguar demonstrates a few things that gives it a competitive edge. For one, it's absolutely gorgeous. Jaguar is the first player in this segment that has actually taken enough of a risk to give their car what I like to refer to as "love it or hate it" styling. I love the way the XF looks, and my thoughts on the lines on this XJ aren't any different. It's also priced far more competitively for the performance and value for your dollar than the majority of others. At a combined 10.4L/100km on a honking V8, the fuel mileage isn't anything to complain about either.
The XJ isn't the fastest. It isn't the biggest, the cheapest, or the most innovative. If you show up to an important business meeting or to take a client out for lunch in an S-Class, they would obviously understand that you're successful, but there's no originality or creativity. Same goes for a 7-series, A8 or even the Lexus LS. Show up in this fat cat and you'll make a statement that you actually care about having that slight edge over everybody else, and that's what success is ultimately about, isn't it?
 2012 Jaguar XJL Portfolio Gallery
3 comments