It's your grandfather's Buick; put through a dryer Despite contrary belief, the all-new Buick Verano is not GM's modern-day Cadillac Cimarron
Despite contrary belief in the automotive enthusiast community, the all-new Buick Verano is not GM's modern-day Cadillac Cimarron. Those who remember the most forgettable Cadillac, or shall I say, rebadged Chevrolet Cavalier, quite possibly cringe at the thought of a rebirth. The Verano is part of the 'new face' of Buick; an integral part of what we know as the new General Motors. Sharing its platform with the Chevrolet Cruze and its European cousin, the Opel Astra J, the Verano is the first modern-day compact sedan that has been marketed under the Buick banner. I decided to sample a 2012 Buick Verano for a week to find out whether or not it's a new Cimarron.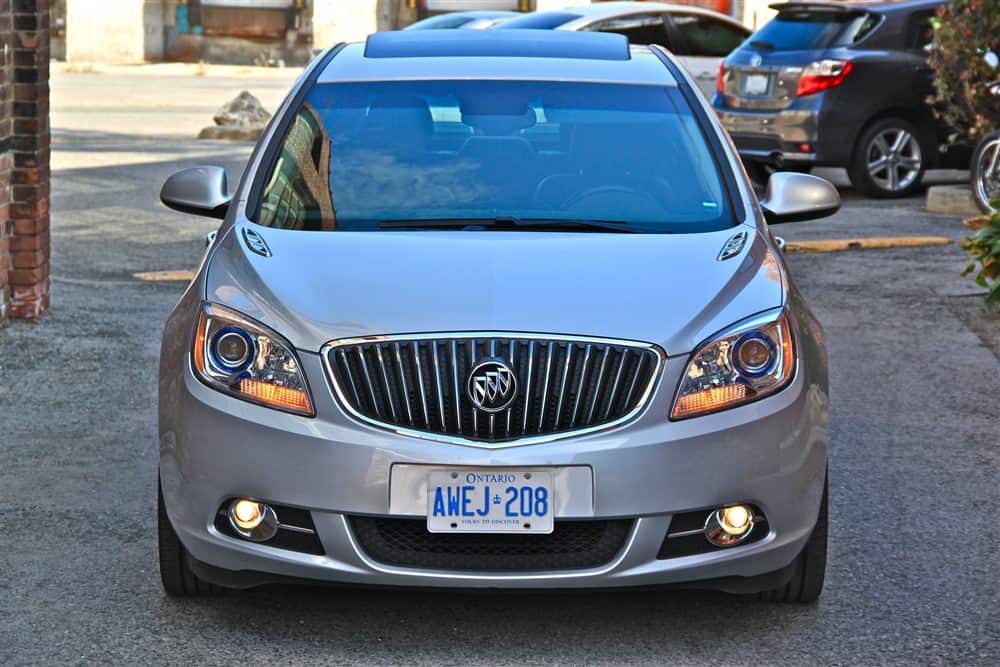 My test car was a Verano 1SL with the Leather Package as well as the power sliding glass sunroof. It obviously had Buick-level leather seats, Bluetooth phone, iPod connectivity, and naturally being a GM vehicle, OnStar. Well equipped as it may be, I found that the Verano was lacking in a few things. For instance, one would assume that on the top-level trim on a premium-branded car, navigation would be standard. On this, it's a $995 option. There's also the lack of availability of ventilated front seats and rear heated seats. Oh, and don't get me started on the monochromatic blue display in the instrument cluster. This definitely hasn't changed in the slightest from the aging Impala that my local Enterprise guy seemed to get a kick out of handing me the keys to. Some may argue that it's an entry-level car, but it's something I'd expect from anything over $30,000 that isn't a sports car.
Judging from the equipment list, my initial impression is moreso curiosity as to why the Verano is worth any sort of price premium over the Cruze. Frankly, it looks like a Regal that's been put through the dryer a few times, whereas the Cruze is actually a sharp-looking vehicle. The interior is 100% standard-issue GM, with zero surprises. The new IntelliLink system is essentially the same as in the Chevrolet Volt, albeit thankfully containing buttons with actual tactile feedback rather than the touch-sensitive dash of the Volt. One significant advantage to General Motors' generic dashboard setup throughout their model line is that it's not hard to find anything at all.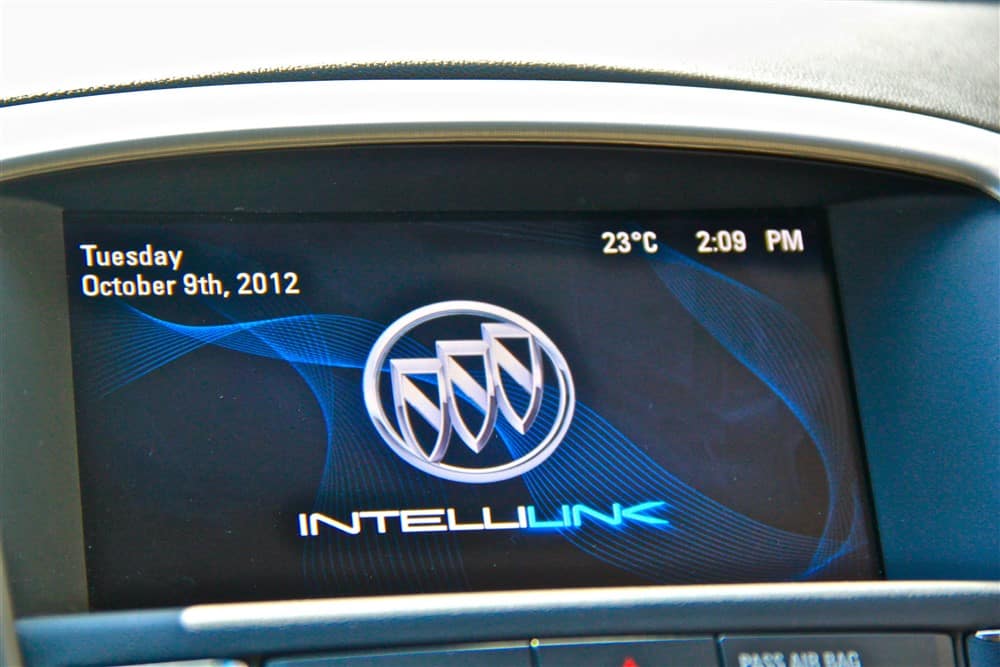 Next up; how the Verano drives. Not much different than its Chevrolet sibling, it's powered by a 2.4L inline-4 putting out a generous 180-horsepower at 6700-rpm. While these numbers seem impressive for a competitive sedan positioned awkwardly between the compact and midsize classes, it's the fuel numbers that genuinely impressed me. Cruising on the highway, the baby Buick managed to get 5.9L/100km all day long. Is it quick? Not in the slightest, but somehow I doubt that the typical Buick buyer is concerned about getting anywhere on time. A stereotype that I've observed in person with many Buicks (typically older models, however) is that they seem to enjoy sitting in the fast lane doing 20 km/h below the speed limit with the turn signal left on.
I've never hidden how much I truly despise CVT transmissions, so naturally I was thrilled to learn that the Verano comes with a 6-speed automatic with an available manumatic mode. The one thing I truly do love about this transmission is the automatic shift knob. As someone who has more seat time driving manual vehicles, I have a habit of resting my right hand on the shifter while driving even in an automatic. This shift knob looks sporty and is comfortable to boot. The transmission however, feels hesitant to shift and is reminiscent of the box on the original diesel Smart ForTwo.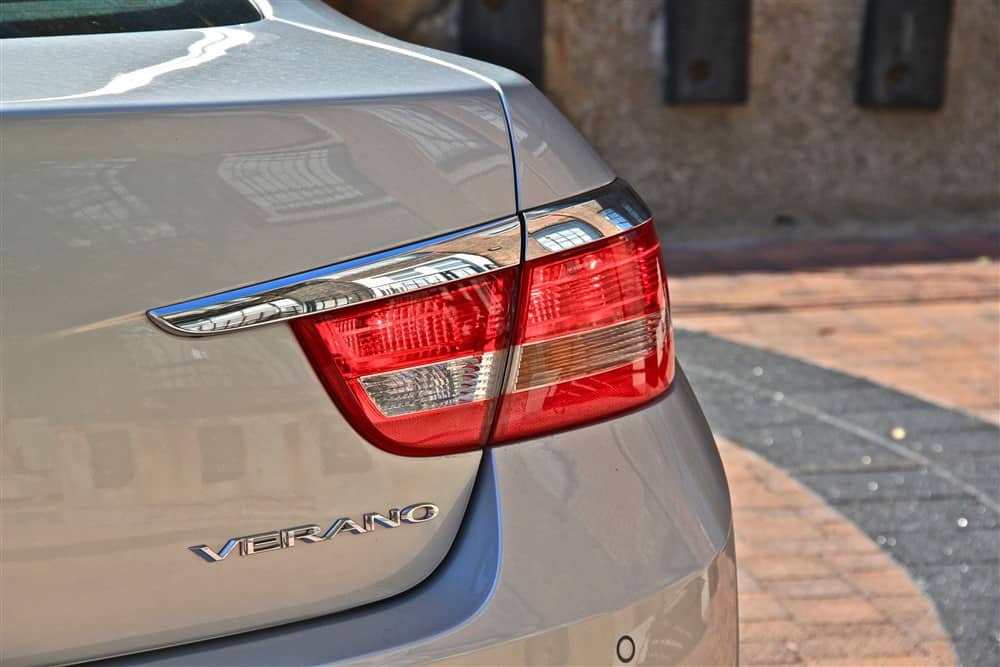 If I'm being completely honest though, it was a stroke of luck that led me to develop a newfound affection for the Buick Verano. Amidst all the complaining about its lack of power and value for the dollar, I forgot one very important factor: context. One evening, I found myself with a throbbing migraine and an added dose of nausea. After taking some Tylenol and Gravol, I decided to take a cruise by the lake with the sunroof open; perhaps fresh air would do me some good. Even with the roof open, I couldn't help but somehow fall in love with the Verano's dynamics. It's library-levels of quiet. The "Quiet Tuning" thing Buick has been talking about? They aren't kidding! It's also approaching Lexus levels of smooth. It's smoother than an IS350, but that's a sport sedan designed to perform rather than deliver serenity. It's also more than $10,000 cheaper than a comparable ES350, so I can't in good faith use that as a reference point either. I don't think there's a quieter car available for $30,000 or less, let alone in the compact class.
Conclusively, there is no denying that I have some gripes with this new offering from Buick. It's definitely appealing as a rental, but I still think that if I were shopping the class, I'd opt for the Chevrolet application rather than the Verano. That said, it's certainly a compelling choice if you're looking for something comfortable for your daily commute that offers a quiet, cushy ride.
1 comment